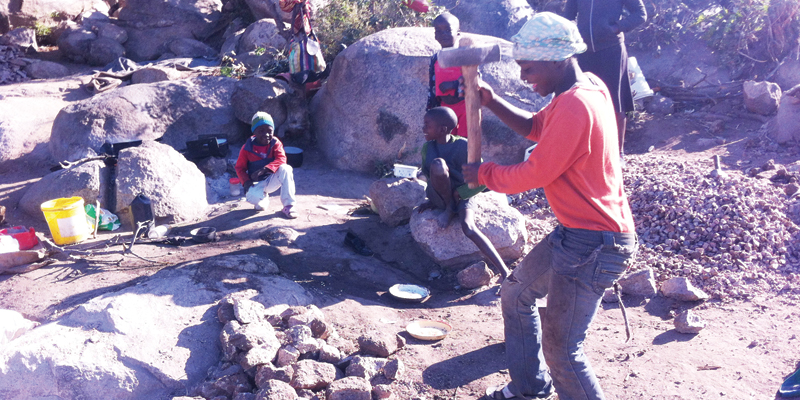 HARDLY putting effort, 17-year-old Talent Musasa lifts a 14-pound hammer above her head.
BLESSED MHLANGA
Mechanically and seemingly without feeling the burden of the hammer's weight she pounds the solid surface of hard quarry stone in an effort to break the rock into manageable pieces.
The first strike yields no result so does the second and the third.
But Musasa, who has a baby strapped on her back, is as stubborn as the rock that resists her, pounding and in equal measure resists the rock's resistance until it gives in and breaks.
She is just one of many women who are earning a living from crushing rocks into quarry stones for sale to the construction industry which against all odds appears to be flourishing while the economy burns.
Her story is no different from that told by many poor and suffering Zimbabweans.
The job market is shrinking by each day while today's husbands are not as responsible as they run away from their families soon after siring offspring.
It is no secret that company closures and retrenchments in what was once known as the industrial hub of the Zimbabwean economy, Kwekwe to be precise, has forced thousands into illegal gold mining, flea-market vending and scavenging to eke a living.
Gold panning is, however, not for the faint-hearted with mine collapses and run-ins with the law enforcement agents, but is only for those brave enough to risk life and limb everyday by remaining in the game which sometimes rewards very little.
Illegal gold panners known as makorokoza have been sent to prison — a mandatory five years for illegal possession of gold and two years for prospecting without a licence.
Musasa's husband is doing jail time after he was caught with five grammes of gold without a licence leaving his young wife to fend for herself and their three-year-old-son.
"I have been left with no choice, but to ensure I put food on the table for myself and the child. My relatives are also struggling and they can't help me," she says.
Joining the once lucrative gold panning industry is a complete no, because she has seen and heard that some of her husband's colleagues who are not in jail have been buried alive as they worked in unsafe mine shafts while others are maimed for life.
These risks have led to a new craze in the hunt for the elusive US dollar — the hand-crushing of stones to quarry for the construction industry.
Quarry stones are now the new gold not only in Kwekwe, but elsewhere around the country's major urban centres, sustaining over hundreds of families who now rely on quarry-crashing which now provides an alternative to both employment and product.
Spiwe Njanji (45) also sits under a small tree crushing small stones into quarry with a four-pound hammer after Musasa's 14-pound hammer has done its bit.
Njanji's left hand has missing fingernails — wounds from the trade — because as she crushed the quarry into three-quarter pieces which are used for concrete mixture, her fingers, without any protective clothing met the wrath of an angry hammer.
"I don't cry, it is the hazard of the trade. My son, knowing that if I don't crush these stones I will be left with no money to pay rentals is medicine enough to heal the wounds," she averred.
Not far away is her three-year-old Tapiwanashe playing with his friends, some of them old enough to be in school, but because of the hardships that their parents face owing to the economic meltdown they wonder aimlessly while their mothers concentrate on the work at hand.
Tapiwanashe has had his eye stitched after being hit by a flying piece of stone which had escaped the wrath of the harmer. His mother Musasa said she had to spend a few weeks away from work nursing her son at home, but now she was back with her child to face the same vulnerabilities.
Twelve wheelbarrow loads of what is known as three-quarter quarry stones cost $120 and it takes almost an entire week for one person to crush and almost a month to get customers who are now scarce because of tight competition.
They also sell by-products like quarry dust which sells for $1 for a 20-litre.
Some of the stone-crushers normally work in gangs with women bundled under some trees which provide shade against the harsh sun while a few men go up the little hills dotted in the suburbs to haul boulders down to the women.
John Maturo, who leads one such gang of five mostly family members, says he lost his job when explosive manufacturing company Dyno Nobel collapsed and has failed to secure a job in the formal sector forcing him into crushing quarry for a living.
"I have five children, a wife and other siblings who need school fees, food and other basics like shelter and I have to provide for them," he said.
Rentals for a room in Mbizo, Kwekwe, range from $50 to $70 per month excluding utility bills; while school fees at primary level in nearby schools attract around $40 per term and $80 for secondary level.
Maturo said he would need over $300 a month to afford his close and extended families, just the basics such as food, shelter and accommodation.
But Maturo is not alone as many people lost their jobs when sole Ammonium Nitrate fertilizer producer, Sable Chemical embarked on a voluntary retrenchment exercise aimed at streamlining operations at the loss-making firm.
Hundreds others will join the long list of the unemployed from Zimasco following another offer of voluntary retrenchment as the mining company was also shedding jobs.
Alice Levi, a widow with children to look after, laughs at suggestions that instead she should go out there and hunt for a formal and safer job.
She even feels sorry for people who report for formal work every single day saying even after toiling for the whole month some don't even get their salaries.
"Apart from the fact that I don't have any academic qualifications, I feel sorry for those who are formally employed because these days most companies are not paying salaries. You work and get nothing at the end of the month," she added.
Tendai Yagondo, who calls stone-crushing the new women industry, is a bitter woman because for a very long time she has participated in council, parliamentary and presidential elections as a voter.
Yet none of the people she has voted into power seem to remember her plight or even care to come and help the poor after getting into office.
"I won't stop voting though because the councillors have left us in peace doing our work. Nobody has come to stop us from doing our work and maybe that is the reason I will be in a queue to vote in next elections," she said.
Yagondo hoped that at least one day the government would fund them to ensure that they get machinery which will see them crushing stones in a healthy and safe environment.
"This business is lucrative because the construction sector is growing and we have clients every day coming to buy from us. Things will only be better for us if government funds us so that we can get stone crushing equipment," she added.
Kwekwe municipality councillor Weston Masiya also believed that stone-crushing was big business which should be supported to alleviate poverty.
"I can tell you that over a thousand of our people are supported by this business, you have those crushing the stone, then some who transport and others who use quarry dust to mould bricks. These people after getting income from stone crushing then manage to pay their water bills," he said.
Council has deliberately turned a blind eye on the stone-crushers who do not pay any operating licences to the local authority.
Building inspectors have also allowed the use of the homemade quarry stones for construction especially in the populous Mbizo high density area.
Through physical counting NewsDay counted 95 individuals involved in stone crushing in Mbizo alone all with an average of six family members to look after.
Another 40 individuals who also have families benefit from the stone crushing "industry" by using wheelbarrows and man-powered scotch carts to transport the quarry stones at $30 per load depending on distance.
Garikai Matava, who is constructing a house in Mbizo 15 said it would have been difficult for him to do his slab had it not been for the help he got from the hand stone-crushers.
"Their terms are flexible and you can negotiate the price unlike say, buying from big companies who are by the way a distance from the construction site," he said.
Independence means little to them because they have remained stuck at the bottom of the food chain dangling and hoping one day the ruling Zanu PF party's much touted economic blueprint the Zimbabwe Agenda for Sustainable Socio-Economic Transformation (ZimAsset) will also cascade to them.
Sadly, Vice-President Joice Mujuru on Monday this week dampened hopes of a quick fix to Zimbabwe's faltering economy through ZimAsset, warning it could take a lifetime to achieve the programme's objectives.
The Zanu PF government is under pressure to deliver on its election promises which include some 2 million new jobs at a time the economy is widely accepted to be going south.
A liquidity crisis that has held the economy back since dollarisation in 2009 shows no signs of easing with cash-squeezed companies forced to shut down, throwing hundreds into the already huge jobless heap.
Aware of the potentially explosive situation, the government now appears to have decided to dampen expectations.
"Five years is too soon to achieve the objectives of ZimAsset. It is the beginning of a lifetime and can take up to 30 or even 40 years," Mujuru told a gathering in Victoria Falls on Monday.
After winning a new five-year term in office last year, Zanu PF launched ZimAsset — October 2013 – December 2018 — vaunting the plan as the cure for Zimbabwe's economic woes. So-called quick wins under the five-year programme were to be implemented between 2013 and 2015, whilst the second phase would cover the period 2016 to 2018 by which economic growth was expected to top 9,9%.
But some hardly 10 months after the July 31 vote it was clear that Zanu PF was a tight corner by failing to stimulate the faltering economy hence diversionary politics.
Hence, while some mothers enjoyed the comfort of manicured finger nails and flowers from their children on Mother's Day this rare breed of women with no finger nails to talk about toiled like slaves to put food on their tables.
It is really sad!