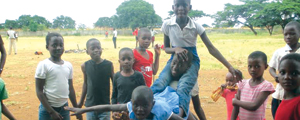 AFRICAN culture has always regarded any child as everyone's child, resulting in people taking responsibility over extended families, or even taking an interest in the lives of other people in their communities.
VENERANDA LANGA
Although some people are now reneging from this cultural practice and adopting foreign cultures where a person only takes responsibility for their family, a Chegutu family has instead decided to take responsibility of many orphans in their locality by forming a community-based organisation, Youth4Children.org, to feed and help orphaned children with different skills.
The organisation was formed in 2013 by a Zimbabwean female based in South Africa, Sarah Cossa.
She said it started as a family initiative when they took in four orphans, but later grew into a fully registered community-based organisation in Pfupajena Township in Chegutu.
Cossa, a professional counsellor and founding director of Youth4Children.org, said she was motivated to form the organisation many years ago before she moved to South Africa due to the suffering of many children which she witnessed in Chegutu.
In 2013, she finally decided to form a fully-fledged community-based organisation and got Youth4children.org registered.
"At that time, I never envisaged that I would end up forming a community-based organisation to feed more than 400 children since I did not even have the resources to do so," Cossa said.
"Our aim as a family was just to help children in our neighbourhood who did not have food, shelter and clothing, but we later discovered that there were many more children in Chegutu who needed help and we formed Youth4Children.org to feed them and train them in different life skills such as soccer."
As a Zimbabwean expatriate now working in South Africa, Cossa said the remaining members of her family were involved in ensuring the organisation moved on.
Apart from members of her family getting a deep interest in the activities of Youth4Children.org, she said she managed to get some volunteers who are also helping in the feeding scheme for the children and in teaching the children to do different activities.
"Our children now number above 400 and our boys have done well in soccer to the extent that they are now affiliated to the Under-13 soccer league," she said.
"The children were also able to participate in the 2014 Independence Day celebrations in Chegutu.
"The girls are also involved in activities such as drummies and traditional dance."
Cossa said her organisation had been sustained by well-wishers who donated food and clothing for the children who did not have boarding facilities, but attended to be fed and to get involved in activities spearheaded by the organisation.
"We continue looking for support from well wishers and we have managed to secure a place at a government school where our children do different activities like sports every Saturday.
"Recently, the Municipality of Chegutu also allocated land to us for establishment of a community garden. We also receive weekly donations of bread from Koshen Bakery to feed our children," she said.
She said some of the items that were needed for the children included sanitary pads for girls, soccer kits for the boys and netball kits.
"We have also approached our local [Chegutu West] MP Dexter Nduna [Zanu PF] to assist with the drilling of a borehole at the garden that we were offered by the municipality and to help us with the erection of a fence and a security guard at the garden," she said.
The legislator, Nduna, said the Youth4Children.org project was a good community initiative because it kept the children off the streets.
"One should watch these children doing different activities and you will understand that it is necessary to have projects for underprivileged children so that they do not resort to criminal activities," Nduna said.
"I hope a lot of wellwishers will come up to support the project in Chegutu in cash and in kind."