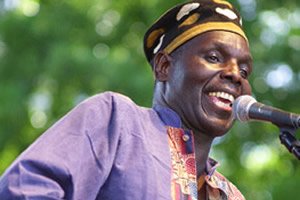 IT was simply an extraordinary night of laughing lungs out during the premiere of the Simuka Comedy Night in Norton at Pakare Paye Arts Centre on Saturday evening where some of the best local stand-up comedians converged to put up amazing acts.
Own Correspondent
Dubbed the First Ever Comedy Night, the event enlivened Norton through bringing together different stand-up comics housed at one of the biggest arts and cultural hubs Pakare Paye for the first time.
The night was literally warmed up by upcoming Norton-bred dancehall chanter Dr Vee who gave a good account of himself musically within this genre that has been making waves with its charming popularity.
His versatility on the microphone set the tone for a night that was yet to witness thrilling performances by different artistes in varying disciplines.
National Arts Merit Awards (Nama)-winning comedian Simbarashe "Comic King" Kakora was the first to deliver his set and left the audience in stitches as he hilariously welcomed legendary music icon Oliver Mutukudzi in the house imitating his trademark "cough" that has arguably won him praise among his legion of fans.
Mutukudzi, a steadfast huge fan of comedy, was gracing the event and the night couldn't have got any better as he also appeared during the event in a typical comic style almost unnoticed amid loud cheers from the audience.
If Kakora's tightly delivered piece is anything to go by, he is surely on the top of his game and is steadily rising as one of Zimbabwe's sought comics.
Upcoming comic, Prosper the Comic Pastor also showed just how he absurd he can be comically perhaps bringing out the creativity attached to comedy.
Bulawayo sensation Clive Chigubhu burnt down the venue with his classy township jokes that relatively depict the culture and lifestyle of people from the South.
Tuku was throughout the proceedings visibly happy and even enjoyed dinner with the performers after the show continuously urging them to explore their potential in comedy circles.
The legendary musician's guest appearance during this night also marked his first ever interaction with Zimbabwean stand-up comedy.
Munya Mataruse's Kazevezeve band provided live music from the background to accompany the performances and kept a lively atmosphere throughout the night.
Organised courtesy of Tuku Music Ten Productions, a Norton-based youth theatre club in association with Simuka Comedy Trust, the event was an initiative of combined efforts meant to enliven Norton through comedy and a search for new talent in the comedy fraternity.
Speaking to NewsDay on the sidelines of the show, coordinator of the event Tiry Nelson Gono said: "We are delighted to have hosted this first ever comedy night at Pakare Paye.
This is part of our unwavering support for this fastest growing trade and art form.
"We have also engaged Tuku, a huge fan of comedy whose passion for this component is unrivalled. He is a musical legend yet his influence through experience and the arts centre remains relevant in almost varying disciplines.
"We are hoping that the event grows bigger as this is going to be a monthly event," he said.
Stand-up comedy certainly has become one of the fastest growing industries in Zimbabwe, receiving endorsements from the corporate world and even showing at spectacles like the Harare International Festival of Arts (Hifa), Harare International Carnival and several events.
Speaking on the growth of comedy, comedian Simbarashe Kakora said: "The prevalent domination of comedy officially endorses it as a universal art form that cuts across all ages, gender, race and language and if prominent figures like Tuku love comedy, then this is a humbling experience that should be given a platform just like music.
"As one of the comedians who started from humble beginnings, I am delighted that the whole comedy fraternity is finally being heard, hence there is need to widen the reach through talent search and more outreach evens," he said.