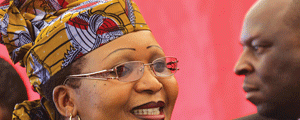 MDC-T Bulawayo acting provincial chairperson Dorcas Sibanda has banned acting spokesperson Swithern Chirowodza from commenting on party matters as factionalism in the city spirals out of control.
NQOBANI NDLOVU
Sibanda allegedly belongs to a camp led by MDC-T vice-president Thokozani Khupe while Chirowodza is reportedly aligned to a grouping plotting the ouster of the two at the party's upcoming elective congress.
Chirowodza was recently installed as acting spokesperson by the organising and administration committees of the provincial assembly after substantive spokesperson Mandla Sibanda, an ally of Khupe, was removed for allegedly failing to discharge his duties.
Mandla was accused of sabotaging the MDC-T in Bulawayo by remaining "silent" and being "absent" when various allegations were levelled against the party.
Informed sources told our a paper Southern Eye that Dorcas convened an urgent provincial council meeting in Bulawayo last week and overturned the decision of the organising and administrative committees to push out Mandla and replace him with Chirowodza.
She confirmed in an interview yesterday that Mandla was back in charge of the party's information and publicity department, adding that those who had pushed for Chirowodza to take over were being "mischievous".
"(Mandla) Sibanda is the official spokesperson of the party in Bulawayo and not Chirowodza. Chirowodza should not speak on behalf of the party and until there is an official announcement, Sibanda will remain the spokesperson," Dorcas said in a telephone interview.
"They (organising and administrative committees) did not have the right to replace Sibanda who was elected at the congress. Those that had backed Chirowodza to be the acting spokesperson violated the party constitution," she added.
However, members of the organising and administrative committees of the provincial assembly said they would push for the ouster of Mandla and Dorcas.
They insisted that Chirowodza remained the acting spokesperson because "the official spokesperson is inactive".
They added that Chirowodza was a member of the publicity and information committee in the province and was empowered by Section 9.13 (b) of the party's constitution to speak on behalf of the party. Chirowodza refused to comment on the issue while Mandla was not reachable.