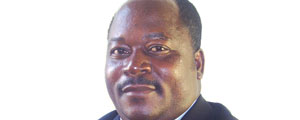 SPORT, Arts and Culture minister Andrew Langa yesterday dissolved the Sports and Recreation Commission (SRC) board, leaving Charles Nhemachena's job as director-general (DG), of the supreme sports body hanging by a thread.
WELLINGTON TONI
Langa was addressing a football indaba at the Zifa Village in Mt Hampden outside Harare, aimed at resuscitating the nation's number one sport, but was not impressed that only one board member — Jessie Nyakatawa — turned up for the crucial meeting.
The out-going board, appointed by former Education minister David Coltart on February 6 2013, was chaired by Bulawayo lawyer Joseph James.  Other members are Edward Siwela, who had been retained from the previous board, Obadiah Moyo and former Zimbabwe Cricket boss Dave Ellman-Brown.
Former Hockey Association of Zimbabwe president Aaron Kanyangarara and ex-national team captain Aaron Kanyangarara, former Zimbabwe Ladies' Golf Union president Nyakatawa, Zimbabwe Rugby Union vice-president Aisha Tsimba and former teacher Miriam Mushayi were also on the board.
But after only Nyakatawa attended yesterday's meeting in Mt Hampden, Langa diverted from his prepared speech and told the board he will dissolve them.
"I can only see one board member here and it shows how we do things. I will dissolve them," he said.
"When the parent association is not here, I can only say I am disappointed. There was never anything more important than this. You can't fail me and we will ensure that you are gone. Tell James (Joseph), in Bulawayo that sport is dying and we have always said improve, improve and improve.
"There are a lot of DGs in this country and we are definitely going to restructure the SRC. DG and your staff, I will restructure and I am going to do that before I am moved.
"The objective of the new board would be to reconfigure the aim and visions and fit them into the National Sports Policy and I am sure that will change the way sport is run in the country. We need a new strategy for football and all other sports and we will be meeting all the other associations like cricket, rugby and volleyball in due course," Langa said.
Reverting back to his speech, Langa said: "My ministry's concern is in the lack of effective management of the national associations by the SRC. The mandate of the SRC is to develop sport and oversee the corporate governance of the national associations that need to be strengthened.
"This will be done through restructuring of the commission with a view to revitalise it. The SRC has to be hands on as the implementing arm of government policy. Its operations will be in line with my ministry's strategic focus to industrialise the sports sector. It will be the objective of a new board to reconfigure the SRC to be in touch with the grassroots," Langa said.
After presentations by the various speakers, a plenary session was then conducted which came up with resolutions that will be drafted into the national sports policy.