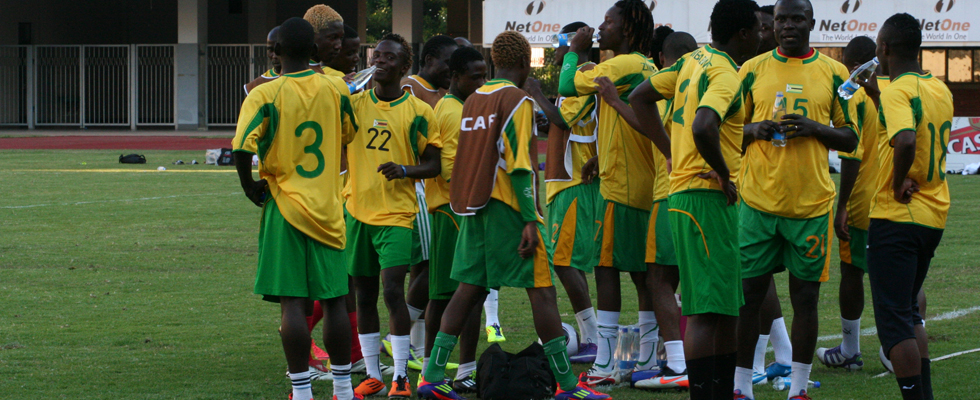 TANZANIA . . . . . . (1) 1 ZIMBABWE . . . . . . . .0 SPORTS REPORTER
ZIMBABWE'S Warriors fell by a lone goal to Tanzania in a 2015 Orange Africa Cup of Nations first round, football first leg qualifier at the National Stadium in Dar es Salaam yesterday afternoon.
The loss now means Zimbabwe has to score twice in the second leg in two weeks' time to progress to the next round of the marathon qualifiers, where the winner will meet possibly Mozambique who took a 5-0 lead against South Sudan yesterday.
John Raphael Bocco scored for the Taifa Stars after 13 minutes to give the ghosts a slender lead after breaching the Zimbabwe central defensive pairing of Eric Chipeta and his skipper Partson Jaure.
Tendai Ndoro had a goal disallowed by Ghanaian referee, Joseph Lamptey in the 38th minute.
The Warriors came off the blocks in the second half and just two minutes after the breather, Kuda Mahachi had an effort saved.
TP Mazembe striker Thomas Ulimwengu was booked for diving in the box three minutes later as the hosts looked to get an insurance goal.
Mbwana Samatta, who also plays for TP Mazembe in the Democratic Republic of Congo, almost doubled the hosts' lead in the 52nd minute but his shot was punched back into play by goalkeeper George Chigova.
Coach Ian Gorowa, sensing the need to get an away goal, took out attacking midfielder Peter Moyo for Kuda Musharu in the 58th minute to create a double strike partnership with Ndoro, but the goal would not just come.
There was a timely interception in the box from Kelvin Yondani in the 65th minute as Mahachi charged into the box in search of an equaliser. Marshall Mudehwe replaced Ndoro in the 84th minute as the Warriors killed off the time, careful also not to concede another goal.
The Warriors will be back in camp next Monday for the return leg as they seek to overturn the deficit.
Mozambique put one foot in the next round of the 2015 Africa Cup of Nations qualifying tournament after a comprehensive 5-0 victory over South Sudan yesterday afternoon.
The first round, first leg clash in Maputo saw the Mambas surge into a 3-0 lead at half time thanks to goals from Josimar, Mexer and Sonito in the 13th, 42nd and 45th minutes respectively.
Sonito completed a brace nine minutes into the second half, while Isac confirmed the 5-0 rout with his goal in the 84th minute.
The second leg clash takes place in two weeks' time in Khartoum.
WARRIORS George Chigova, Hardlife Zvirekwi, Milton Ncube, Patson Jaure, Eric Chipeta, Danny Phiri, Stephen Alimenda, Kuda Mahachi, Cuthberth Malajila, Peter Moyo (Kuda Musharu 58th min), Tendai Ndoro (Marshall Mudehwe 84th min) OTHER RESULTS Mozambique 5-0 South Sudan, Madagascar 2-1 Uganda, Kenya 1-0 Comoros, Swaziland 1-1 Sierra Leone