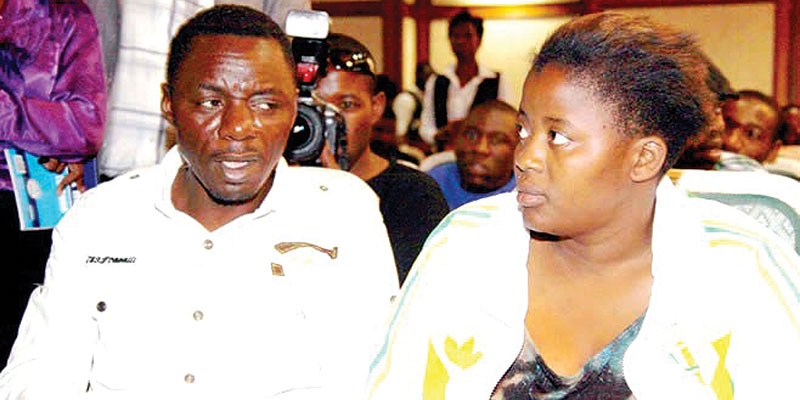 There was drama at the Civil Court in Harare yesterday when sungura musician Alick Macheso's estranged second wife Tafadzwa Fortunate Mapako was mobbed and jeered by Macheso's fans, chanting derogatory and unprintable words and accusing her of fleecing her former husband.
SENIOR COURT REPORTER
After leaving the court premises, Mapako had to seek refuge among her team of lawyers as the mob advanced, pointing fingers at her, chanting and labelling her a "whore".
The drama outside equalled the one witnessed in the courtroom where lawyers representing both parties took time to denigrate each other while addressing the court in support of their clients.
Tempers almost flared when Tafadzwa's lawyer, Gift Nyandoro, felt insulted after Macheso's lawyer, Norman Mugiya, had told the court that Nyandoro had handpicked witnesses from the streets of Mbare to come and support his client.
"This is a bogus nature of pleadings. One cannot just pick people from the streets and ask them to write affidavits," Mugiya said, referring to affidavits filed as part of evidence in support of Mapako's case by Nyandoro.
Mugiya's allegations followed Nyandoro's earlier submissions that Mugiya had not been candid with the court in the manner he had presented an unsigned affidavit, an indication that he had not done his work properly.
"Your Worship, we cannot condone Satanism here. We will not allow Satan to prevail in this matter. My learned friend must withdraw his statement that I lied when I said the affidavit was not signed," Nyandoro said addressing the court, objecting to Mugiya's submissions which magistrate Tafadzwa Muvhami overruled.
As the court proceedings progressed, Macheso offered to pay maintenance in the sum of $150, arguing he was not a man of high means, but an employee of the band who was also surviving on a salary like any other band member.
"The respondent (Macheso) is an ordinary musician working under extraordinary conditions as opposed to the fallacy presented by the applicant (Mapako)," Mugiya said, drawing laughter from the public.
"There is no right to spousal maintenance in our law and the applicant thought she could get a meal certificate by making this application. The applicant is claiming maintenance from the band and not from the respondent as an individual."
However, Mapako's lawyer submitted that Macheso was a man of means, and would be able to pay what he termed "a paltry $7 000" given that he was an ambassador of many advertising brands and further to that being an international musician.
"We are talking of a musician who is national, regional and international and cannot be compared with Kapfupi [Freddy Manjalima]. He is a man of fame who was even recognised and greeted by the President of this country," Nyandoro said.
Nyandoro also urged the court not to consider Macheso's request for paternity tests, arguing the request should have been made as a separate application, an assertion Mugiya dismissed.
Mugiya said: "I pray that the court orders an interim maintenance figure of $150, which is a whopping figure for Mapako, and also to order paternity tests to be conducted by May 30."
Judgment in the matter was deferred to today.