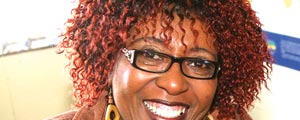 Yesterday, I gave a lift to an elderly woman popularly known as Gogo vaGamu who was bitten by a dog in the quiet Tynwald North residential area near Westgate in Harare on Thursday afternoon.
Saturday Dialogue with Ropafadzo Mapimhidze
The dog is apparently owned by a family that has not built a fence or wall around their property to ensure that this dog does not come into contact with people walking along the streets.
This is a requirement for any dog owner because it is a fact that these animals are potentially dangerous and hence can possibly maul innocent people passing by.
This particular dog has apparently bitten a couple of other people, including a young child and it is everyone's wonder why the dog owner lets loose such a vicious dog.
So many dogs in this neighbourhood have apparently become a menace as they send children walking to and from school onto their heels and yet these animals are supposed to be secured at their owner's property to avoid situations where injury may result.
Some of them lie on the streets and risk being hit by moving vehicles. Dog attacks are usually attacks on humans by domestic dogs which are pets.
With the close association of dogs and humans in daily life, dog attacks vary with injuries from very minor to significant or severe to fatal — which is a common trend worldwide depending on the breed.
There is considerable debate on whether or not certain breeds of dogs are inherently more prone to commit attacks causing serious injury. But the bottom line is that all domestic pets should be kept in and around secure homes.
This is because a dog, no matter how tame, is potentially dangerous to the extent that it can actually cause death through viral infection of the person it has bitten.
A person bitten by such an animal carrying parvovirus or rabies virus should consult a medical care facility as a matter of urgency. An animal bite may also cause serious bacterial infections of soft tissues or bone, which can become life threatening if untreated.
The elderly woman I mentioned earlier said when night fell on Thursday, she started shivering with a fever and hence decided to visit a clinic in Belvedere for treatment yesterday.
Dog bites can cause overwhelming sepsis in the elderly, and in people who are living with an immune-compromised health status.
Small children are especially prone to being misunderstood by dogs, in part because their size and movements can be similar to prey. Young children may unintentionally provoke a dog by pulling on ears or tails because of their inexperience.
To avoid potential conflicts, even reliably well-behaved children and dogs should never be allowed to interact in the absence of an adult who knows and understands the dog's personality.
However, it is the stray dogs that are a cause for concern because they may be hungry and when interrupted as they scrounge for food from bins, the reaction can sometimes be fatal. The economic problems Zimbabweans are experiencing have resulted in dog owners not being able to adequately provide for their dogs.
The harsh truth is that all dogs have the potential to be dangerous dogs. This is so if these dogs are kept under circumstances that do not suit their size and nature.
Keeping a large dog in a small flat is not only irresponsible, but in my view, an act of cruelty.
Likewise, taking on an energetic breed and not providing it with enough exercise or owning a dog breed to guard and not training it to obey even basic command is also very irresponsible.
Dogs are complicated animals with a very different psychology to humans. Until owners begin to treat their pets like wild animals that need firm but friendly guidance, potentially aggressive traits will continue to be ignored.
It is imperative for the Society for the Prevention of Cruelty to Animals to step in and put down stray dogs in many of Zimbabwe's residential areas. These dogs are a menace as they sometimes jump into residential properties looking for food leftovers shoved into refuse bins.
Some dig up plants and vegetables as they run around, leaving their poop on vegetable patches. These dogs are so annoying to residents that don't own such animals. Rigorous awareness campaigns over this matter should be constantly done to ensure that all dogs are vaccinated against parvovirus and rabies.
Rabies is a viral disease that causes acute inflammation of the brain in humans and other warm blooded animals. The time period between contracting the disease and the start of symptoms is usually one to three months. However, it can vary from less than one week to more than one year.
The time is dependent on the distance the virus must travel to reach the central nervous system Early symptoms may include fever and tingling at the site of exposure.
This is then followed by violent movements, uncontrolled excitement and fear of water or an inability to move parts of the body and confusion followed by loss of consciousness. In both cases, once symptoms appear it nearly always results in death.
Gogo vaGamu says she developed fever the day she was bitten and hence decided to seek medical attention. Residents who witnessed the incident said the dog owners were allegedly very casual about this incident and never bothered to come out and see what was happening.
In Zambia, I remember many incidents where council police would shoot any stray dog and demand vaccination certificates of pet dogs. Any resident that failed to show this piece of paper would have their dog put down. This may sound harsh or like cruelty to animals, but why should a person own a dog that he or she fails to feed or ensure it is safe to play around with children?