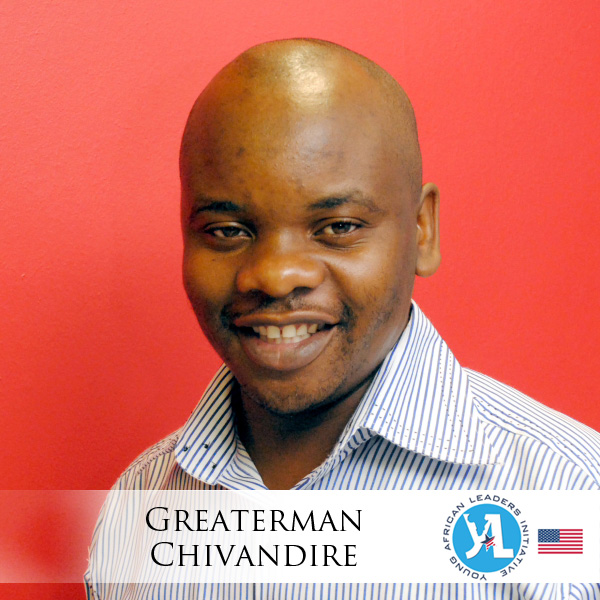 Development worker, Greaterman Chivandire (pictured), has spent the past five years working to increase the capacity of youth and people with disabilities, helping them to realize their full potential and to exercise their rights as equal citizens.
He is excited to be part of President Obama's Young African Leaders Initiative (YALI); an experience he says will propel him to achieve his goals. "Upon my return, I will apply the civic leadership skills I've learned to my work in the disability sector, where I coordinate programs that reach more than 15,000 people with disabilities in the country's 10 provinces," says Greaterman. "I want youth with disabilities in this country to become engaged in a positive manner and contribute to the nation's progress."   He sees the Washington Fellowship as a 
"
unique program that harnesses the potential in youth and creates a roadmap for progress towards a durable development through developing leadership norms and ethos in young people that are consistent with development, peace and stability. Greaterman will complete six weeks of rigorous study at Rutgers University in New Brunswick, New Jersey. "I look forward to acquiring new and sharpening existing skills in civic leadership that will enable me to leverage opportunities for people with disabilities in Zimbabwean society." Since January 2011, Greaterman Chivandire has been employed as the Programs Coordinator at Leonard Cheshire Disability Zimbabwe Trust, a non-profit organization that provides services and support to people with disabilities and their families. Through his work, he has campaigned for the rights of persons with disabilities and coordinated six programs implemented across Zimbabwe's 10 provinces. Previously, Greaterman worked as an Outreach Development Worker at Streets Ahead Welfare Organization, a private voluntary organization that reunites children living and working on the streets of Harare with their families, guardians, and communities. Greaterman holds an M.S. in Development Studies earned with support from the Netherlands Fellowship at the International Institute of Social Studies of Erasmus University Rotterdam in The Hague, Netherlands. He also studied History and Development Studies at the Midlands State University in Gweru, Zimbabwe, where he graduated 
summa cum laude 
and received the University book prize in 2007.
BACKGROUND ON THE YALI WASHINGTON FELLOWSHIP
See below a video message from President Obama encouraging young African leaders to join the YALI Network
·         For more information on YALI go to 
http://youngafricanleaders.state.gov/yali/
·         For more information on the Washington Fellowship, including video of President Obama's announcement of the program go to 
http://youngafricanleaders.state.gov/washington-fellows/