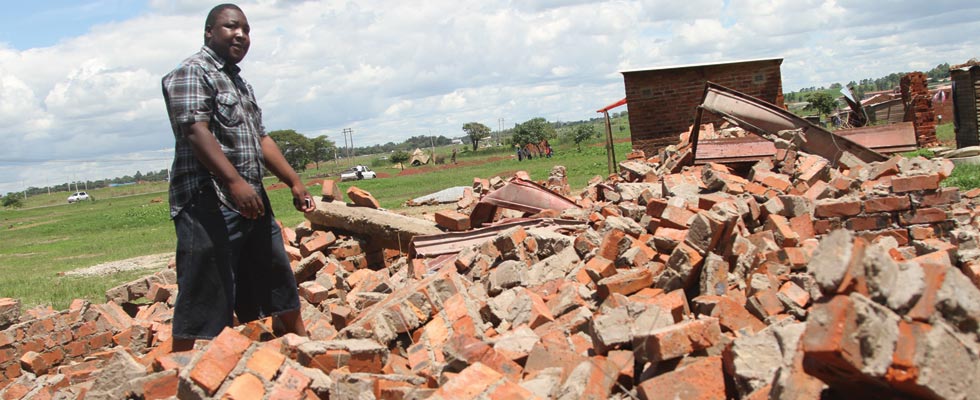 HARARE CITY Council yesterday said it was moving in to demolish all illegal structures, including houses in Mufakose built on top of water pipes and other structures mushrooming around the city erected without municipal approval.
MOSES MATENGA
The move was in line with government's order to demolish illegal structures around the country in a development residents view as reminiscent of the 2005 Operation Murambatsvina.
Charles Nyatsuro, chairperson of the Housing and Community Development committee, told NewsDay yesterday that there were steps to ensure all illegal structures around the city would be removed while those that could be regularised would be legalised.
"There are two areas to look at when we deal with illegal structures: there are those that can be regularised and those that can't be," he said.
"We are yet to get a list of which structures will be demolished, but there are houses like in Mufakose built on water pipes, those are dangerous and you can't regularise that. It's only a matter of implementing resolutions that are there and illegal structures should be dealt with."
Nyatsuro said there was mushrooming of illegal structures in areas like Mbare including markets and small shops and there was every reason to remove them.
Illegal extensions were being built on houses without council approval and the local authority insisted that this be dealt with.
"It's illegal, they must be removed. In Mbare there is resistance from people, something political, but council is saying what is illegal is illegal and should be removed," Nyatsuro said.
Ward 11 councillor Anthony Shingadeya said an audit must first take place to establish what was legal and what was not and those that could not be formalised should be demolished.
Government recently gave a three-week ultimatum for residents, starting with Chitungwiza, to demolish their own illegal structures or risk involvement of police to assist in razing them down.
Councillors recently spoke of the need for a solution over the houses in Mufakose. While councillor for the area and deputy mayor Thomas Muzuva said there was indeed a problem, he said there was a need for a solution that would not prejudicially affect the people.
City fathers are likely heading on a collision course with residents' associations and civil society organisations if they go ahead with the demolitions without providing alternative accommodation to those affected.