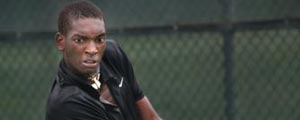 ZIMBABWE'S Takanyi Garanganga has reached his highest ever singles tennis ranking after jumping an impressive 41 places on the Association of Tennis Professionals (ATP) world rankings released on Monday evening.
DANIEL NHAKANISO
Garanganga, who according to his ATP World Tour profile has earned $6 145 on tour this year, rose from position 349 to 308 after beating higher-ranked opponents on his way to reaching the quarter-finals at the Jalisco Open in Mexico last week.
After reaching the quarter-finals, Garanganga won 25 ATP world ranking points and $2 920 for his efforts.
The 23-year-old star's managing agent Thabani Sithole told NewsDay Sport that Garanganga had the potential to become a top player if given the support as he had achieved so much with limited resources.
"The amazing story is that Takanyi has had to do all this without adequate resources to take care of coaches, travelling among others as the family's resources have been exhausted. All of his opponents are well-resourced at their respective national level," Sithole said from his base in the US.
"As time progresses, we will secure the necessary funding for Takanyi, but it's at this important time that we urge the nation's corporates, both private and public, as well as individuals to support the sterling efforts of Takanyi.
"He is raising the flag of Zimbabwe high and we want to put Zimbabwean companies at the fore when he is competing.
"I would like to also take the time to graciously thank all of Takanyi's fans and well-wishers for their support, we feel every bit of it, everyt ime Takanyi steps onto the court."
The Jalisco Open, which is held annually in Guadalajara, Mexico, is part of the ATP Challenger Tour and is played on outdoor hard courts at the Centro Telcel de Tenis.
Garanganga started his campaign from the qualifying draw where he was able to dispatch three other qualifiers, including the world number 200 player Adrian Menendez-Maceiras from Spain.
As he progressed, playing in the first round of the main draw he defeated the 111th-ranked German Peter Gojowczyk who in January this year pushed world number one Rafael Nadal to three sets at the Qatar Open.
To secure a quarter-final berth Garanganga outlasted the big serving Australian, Samuel Groth 7-6, 4-6, 7-6.
Groth, who is best known for hitting the fastest serve on record at 263km/h in 2012 at the ATP Challenger in South Korea, had recently won the Rimouski Challenger in Canada the week before.
Sadly Garanganga's solid performance came to an end when he was defeated by American Rajeev Ram 7-6, 3-6, 6-2.
Ram, who is currently ranked number 31, has been ranked as high as 78th in singles and number 33 in doubles.