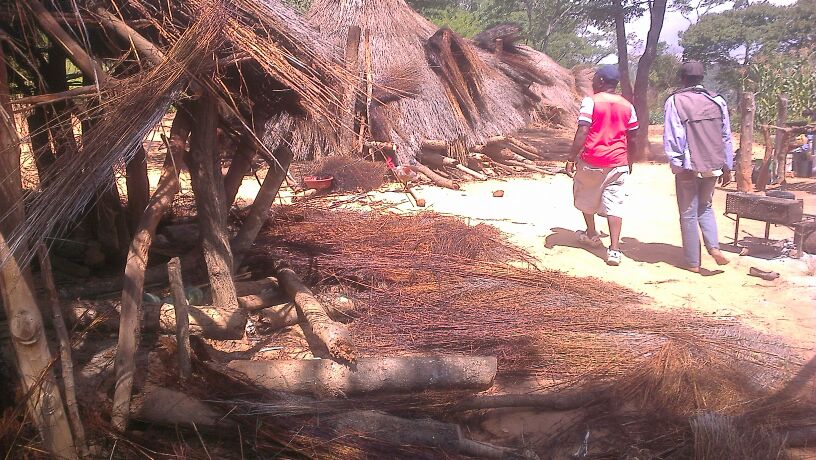 PRESIDENT Robert Mugabe's family has been linked to the on-going eviction of over 900 families at Manzou Farm in Mazowe, Mashonaland Central Province, amid reports that the First Family wants to annex the property and turn it into a wildlife sanctuary.
BY EVERSON MUSHAVA CHIEF REPORTER
Sources told NewsDay that the First Family also intends to build a university to be named after the Zanu PF leader.
Close to 900 families were yesterday ordered to vacate the area by armed police officers.
This follows a similar raid on Saturday where the police evicted a traditional healer Mary Kazunga believed to be a spirit medium of liberation war heroine Mbuya Nehanda.
Kazunga was reportedly dumped in Rushinga, her original home village, on Saturday.
When NewsDay visited the farm yesterday, scores of police armed with shotguns, batons and dogs were busy ordering people off the farm and destroying their homes.
Some desperate families had gathered what remained of their belongings outside their ruined houses while others were busy looking to hire trucks to ferry their belongings to the Harare-Bindura Highway where they intended to camp.
Others said they wanted to go to Bindura or Harare to seek sanctuary with relatives.
One of the villagers, who refused to be named for security reasons, said the police refused to disclose who had sent them.
He criticised the government for its brutality in evicting them just when they were beginning to harvest their crops.
He said the evictees would have no food between now and the 2015 agricultural season.
"They destroyed about 20 homes on Saturday and took away Mbuya Nehanda to Rushinga. Today (yesterday), they are ordering everyone out," the villager said.
The villagers were being ordered out of Spenenken and Anorld Farms, which both form Manzou estate.
"They told us that all the people from Spenenken and Anorld farms should vacate. We do not resist eviction, but at least they should give us time to harvest our crops," one of the victims said.
Some villagers were busy harvesting their tobacco and green maize crop, but remained in the dark on where they would be going as they claimed the police were ordering them out without alternative places to settle.
However, a source close to the development yesterday said that the land had been earmarked for the expansion of the Mugabe family's growing business empire.
"They (Mugabe family) want Manzou for a Game Park. They want to partner with a white man who owns Thirtyford Game Park close to Manzou farm," a source said.
"They also intend to build a university to be named after Mugabe close to the game park."
Manzou was a game park before Zanu PF supporters invaded it at the height of the land reform programme in the early 2000s.
Mashonaland Central Provincial Affairs minister Martin Dinha, however, denied that the evictions were linked to the Mugabe family.
He said the evicted families had been illegally settled by a self-proclaimed spirit medium.
"The eviction has nothing to do with President Mugabe. It is criminal and an abuse of the privileges of publication to allege that. I am the Provincial Minister and I was working with Deputy Minister of Agriculture (Livestock) Paddy Zhanda to remove the illegal settlers," Dinha said.
About the traditional healer's eviction, Dinha said: "I am sure she (Mary Kazunga) is now happily practising her traditional healing work back at her home in Rushinga."
The Mugabe family empire will now include a lavish wildlife sanctuary and the Robert Mugabe University.
There will be a museum at Baradzanwa, a place where the legendary liberation war heroine and spirit medium Mbuya Nehanda was believed to have been captured by the colonial settler regime.
The Mugabe family already has vast projects in the Mazowe district, which include a children's home, a state-of-the-art primary school, Gushungo Dairy Farm, and they recently appropriated a large chunk of Interfresh's Mazowe Citrus Estates.
The First Lady Grace Mugabe recently told visiting former Ghanaian President Jerry Rawling's wife, Nana Konadu Agyemang, that apart from her charity home and primary school, she was in the process of building a secondary school which would start enrolling next January.
On Saturday morning, about 50 armed police officers swooped on the villagers at Spenenken Farm around 4am and ordered settlers to vacate the farm.
Dinha recently promised to allocate the Mugabe family more land, saying he was not apologetic for doing so as the First Family deserved it.
"The land is no longer sufficient to sustain the projects the First Lady has on her sleeves." Dinha said then.
The villagers were yesterday making frantic efforts to contact Zanu PF secretary for administration Didymus Mutasa and political commissar Webster Shamu whom they alleged had instructed them to stay on the farm until they were properly resettled following similar attempts to evict them last year.
"There is no court order to evict us," another victim said.