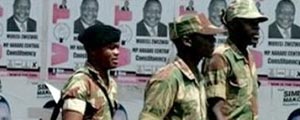 A FORMER  member of the Zimbabwe National Army (ZNA) Didymus Maboreke is demanding $350 000 compensatory damages  from the Ministry of Defence for injuries sustained while he was on duty in the Democratic Republic of Congo (DRC) in 2001.
By Feluna Nleya, Staff Reporter
Maboreke, who served in the army between July 1999 and November 2008, said he suffered brain damage after he got involved in a road traffic accident in the strife-torn DRC following his deployment as part of a regional peace-keeping force.
He said as a result, he was now suffering from psychosis and had been placed on mental health drugs for life since 2008. In summons filed at the High Court on February 10 this year, Maboreke, whose force number was given as 810159G, accused the army of spurning his compensation claims.
"I submit that the case was twice brought before the attention of the Zimbabwe National Army Payments and Records by my father Moses Onia Maboreke and again by the Ombudsman's Office, but nothing came out of it," Maboreke said. "I further submit that efforts by my father to secure compensation failed as it was alleged that I did not sustain any injuries while on duty and this is despite evidence by witnesses who attended the scene."
He wants the army to pay him $50 000 for past medical expenses, $250 000 for future medical expenses and $50 000 for shock, pain and suffering.