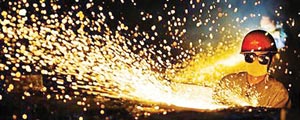 A RECORD 9 617 job losses and 75 company closures were recorded last year amid fears that the trend could escalate this year as the economy continues to shrink, the Zimbabwe Congress of Trade Unions (ZCTU) has said.
By Victoria Mtomba Business Reporter
ZCTU secretary-general Japhet Moyo said a recent survey by the labour body had shown that the most affected workers were in the clothing, engineering, furniture, metal, industry, tobacco, textile, chemicals, food, agriculture, catering, pulp and paper industries.
"A survey by the ZCTU among its affiliates noted that from reports of 15 out of 30 unions affiliated to the ZCTU, 75 companies closed shop throwing 9 617 workers out of employment," Moyo said in a statement.
He said this year had already recorded 890 job losses in the General Agriculture and Plantation Workers Union of Zimbabwe following loss of activity at eight large commercial farms.
In an interview, ZCTU president George Nkiwane said the figures could increase as the labour body had not yet received statistics from its other affiliate members.
Nkiwane attributed the matter to pursuit of policy that scared away potential investors.
"We urge the government to have the interest of the people at heart other than the interest of individuals. As a country, we do not have policy consistency and some of the policies scare away investors. The list does not reflect the real situation as we are yet to receive some figures from some of our affiliates in the country," he said.
Economist Godfrey Kanyenze described the figures as a true reflection of what was obtaining on the ground.
Last year, capacity utilisation levels in the manufacturing sector dropped to 39,6% while growth projections slumped to 3,4% due to slowdown in business activity.
Zimbabwe's unemployment level has been heavily contested with industrialists placing it at above 80%, while the government has maintained a conservative figure of 10%.
The country's universities were churning out over 10 000 graduates each year with most of them ending up absorbed in the informal sector.