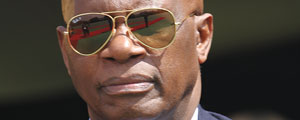 The recent 2014 Budget Statement by Finance and Economic Development minister, Patrick Chinamasa, was once again a reminder to the entire populace how Africa in general and Zimbabwe in particular prioritise the gun ahead of food and butter.
ALEXANDER RUSERO
Gun versus butter is a model used to demonstrate the relationship between a nation's investment in defence and civilian goods. Thus a nation has to choose between the two options when spending its finite resources. It can buy either guns (invest in defence/ military) or butter (invest in production of goods).
Thus from the onset of Chinamasa's standing of the podium before presenting the budget, it was clear that the Budget Statement would be anchored more on defence/ military priorities, given Zanu PF's ideological modus oparandi.
This was even further buttressed by the minister's concluding remarks, when he said;
"Mr Speaker Sir, while it is true that we have faced some formidable challenges in the past, the truth is that we have prevailed over those challenges through the grace of God, and also through national tenacity and unity of purpose, rooted in our liberation struggle, that 'we are our own liberators."
Liberation that Chinamasa had in mind which of course is the overall reflection of Zanu PF's ideological orientation is hard politics backed by highly sophisticated military security hardware. Hence the gun as the statement presented by the minister exhibited took precedence over butter.
The collective allocation of vote appropriations to military-related sectors is a total sum of $876 291 000, close to a billion, with the Office of the President and Cabinet being allocated $206 054 000, Defence $360 054 000, and Home Affairs $364 183 000.
What it means is that the very sectors that Zanu PF purports to be the major drivers of the economic turnaround strategy are not, as the vote appropriations reflect, important to the extent that they can overtake the gun priorities.
While it is ideally noble for any country to prioritise its security, exclusively ahead of many sectors, recent trends and developments at a global level stress that human security now takes precedence.
A country cannot necessarily claim to be secure if its entire citizenry is not secured in terms of citizens' health, food and educational needs.
Thus, whereas the military-security related sectors got a collective allocation of $876 291 000, food which matters, only got $155 256 000 through the Agriculture, Mechanisation and Irrigation Development.
This silently appeared to be in strong contrast to the country's new crafted blueprint – the Zimbabwe Agenda for Sustainable Social Economic Transformation (ZimAsset).
Given Zimbabwe's dire need to resuscitate its industry, it was inappropriate for the minister to allocate a paltry $7 369 000 to Industry and Commerce.
In a country bitten by scourges of unemployment, massive industrialisation could have filled such a menacing vacuum. Worse, given the fact that majority of Zimbabweans are tenants, one would have expected a meaningful allocation to Local Government, Public Works and National Housing, which would thus have triggered massive housing projects and infrastructural development. Sadly the ministry simply got a meagre $88 350 000.
It is no longer a secret that our roads are a menace not only to the locals, but even visitors in the form of tourists and other delegates. As such Transport and Infrastructure Development ministry was supposed to get a fair share of the cake for the facelift of the roads, railways and airports which will not be possible with a little $69 001 000 the ministry got.
Chinamasa also erred in his budget when he forgot that the world we now live in is highly an info-driven society where it is now a knowledge economy. As such, conduits of disseminating and imparting information such as Information, Media and Broadcasting Services as well as Information Communication Technology, Postal and Courier Services could not collectively have got a paltry of $17 322 000.
Allocation of only $23 445 000 to Energy and Power Development means our country shall continue to be plunged into perennial swaddles of darkness for as long as it takes. The economy shall be a generator-powered economy where sounds of generators shall for the umpteenth time be thunderous right in the heart of our central business districts.
In this day and age, governments in Africa, Zimbabwe included, ought to prioritise human security. Human security which focuses primarily on protecting people while promoting peace and assuring sustainable continuous development, aims at aiding individuals by using a people-centred approach for resolving inequalities that affect security.
Perhaps there is greater need to realise that in this post-Cold War era we are living in, and more importantly, the post-interstate conflict period countries like Zimbabwe ought to learn better that security is no longer exclusively understood in terms of military might and the balance of terror.
The contemporary meaning of security means far more than the absence of conflict. The "gun budget" by minister Chinamasa fell short of appreciating genuinely and fully a broader vision encompassing areas such as education and health, democracy and human rights, protection against environmental degradation and the proliferation of weapons.
Alexander Rusero is a political writer based in Harare. Contact him on arusero@yahoo.com
Related Topics