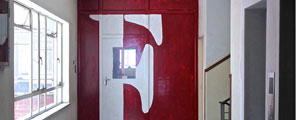 Dramascapes, a solo exhibition by Wycliffe Mundopa, is set to open at First Floor Gallery Harare (FFGH) tomorrow.
ENTERTAINMENT REPORTER
FFGH international projects and educational director Valerie Kabov said Dramscapes would feature new body of work, introducing some of the artist's largest canvases to date as well as a new series on paper.
"Dramascapes speaks to the extraordinary lives. It delivers powerful and uncompromising testimonials of unspoken unspeakable truths concealed by the public face to face of routines and social conventions.
"Deep within the Shona poetic tradition of metaphor and transformation, his images take on cultural and social taboos with the passion and poignancy without moralising or self righteousness,'' Kabov said.
His works transcend their subject matter to become an opportunity to see human lives through the fractures and junctures of tradition and change, clashes of moral codes and the economic strains.
She said the colours in his canvases scream passion and pain underscored by loving razor-edged elegance of his lines.
Mundopa is a passionate advocate of the lives of women and children in Harare's underprivileged neighbourhoods with a drive to acknowledge those who are too often swept under the carpet by society.
He is also a poet of Zimbabwe women, who is able to see the dream in the nightmares, the honour in the squalor and the courage to acknowledge pain rather than euphemise despair.
The former National Arts Merits Award winner is already a veteran of Harare arts scene and a tenacious witness to Zimbabwe contemporary life.
Mundopa's exceptional skill and expressive power has won him acclaim and popularity with collectors. His works are collected and exhibited around the world in countries like Japan, Australia, Cameroon and Thailand among others.
He  has been showcasing his works at FFGH since 2010 and last year he represented the gallery at Berliner Liste2013 international art fair as well as the inaugural edition of 1:54 contemporary African art fair (London 2013).
This is the first exhibition of the year at FFGH and it will run until the opening exhibition of the year for the contemporary space.