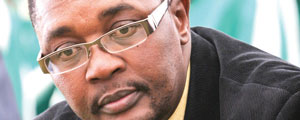 A new film by an independent famous producer and director Von Tavaziva, better known as detective Chanaiwa in the film Go-Chanaiwa-Go Reloaded, is expected to hit the small screen early next month.
WINSTONE ANTONIO
The one-and-half hour action-packed film with a crime awareness theme will feature Tourism minister Walter Muzembi, Felix Dapi of Tiriparwendo fame and musician Kireni Zulu as detective Nigel and hip-hop artiste Dizzy Don, real name Mcdonald Maphosa.
The movie's theme centres on detective Chanaiwa and his team who are still fighting crime on the streets.
This time the rival drug dealers Kudzai Musonza who plays Perry's role and Dizzy Don (The Don) are combining forces to bring Chanaiwa and his team down, but detective Chanaiwa is always a step ahead.
Chanaiwa rallies a crack team comprising the best from the air-force, the army, the police and a sniper from the presidential guard.
He calls this team the GCG Team. The Don is "smoked out" of a disused mine shaft where he had established a base.
Perry and his bad guys do not stand a fighting chance when the police launch an attack on him. He is shot by his sister who, in the process, will be trying to protect her boyfriend, Chanaiwa.
Speaking to NewsDay, Tavaziva said when the series Go-Chanaiwa-Go was being aired on a local television station sometimes people missed it because of the power cuts hence, the decision to come up with this film.
"Our fourth-coming project is arguably a must-watch action-packed film to be done in Zimbabwe and I believe it will be well received both locally and outside the country," he said.
Tavaziva has urged those who want to venture into the film-making industry to work hard and be patient to achieve their goals. "When we started working on our first projects four years ago, we had nothing and I had to fund everything myself.
"I was honest with the actors from the start as I told them that we had no funds and we were probably not going to get anything, but as for now things have changed."
Tavaziva's first work as an independent producer was Forty One, a 2006 production, Go- Chanaiwa-Go season one and two done in 2010 and 2011 respectively and Simbimbino that is currently showing on Mzansi Magic.
"As I look at it, the film industry is getting better considering my history as an independent producer I am sure we are going in the right direction and if it continues in these way things might get better for us as film makers," Tavaziva said.
With the technical expertise from studying Microsoft Systems Engineering, Tavaziva's work with video editing has landed him success in many television productions such as The Forgotten Son andThicker than Blood.