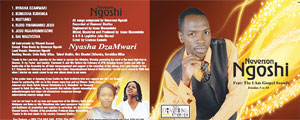 NEW kid on the gospel scene Neverson Ngoshi, who recently released a six-track compilation of inspirational gospel music, says he is ready to turn the world to trusting God alone through whatever challenges people may be facing in today's world.
Tinashe Sibanda
Titled Nyasha DzaMwari, the album includes tracks like the title track, Kumusha Kudenga , Nditumei, Rudo RwaMambo Jesu, Jesu Ngaarumbidzwe and Dai Waizviziva.
"Although I have made it a point to highlight the goodness of living under the grace of God in all tracks, my music will be made especially to convince and teach people to shun traditional healers of this world, who are agents of the devil disguised as helpers from our ancestors," he said.
Ngoshi, who said he was not afraid of or shy to call a spade a spade in discrediting those he believed were agents of the devil, said it was very important for people to always stay under the guidance of the Almighty God, who was the beginner and finisher of their salvation.
He said besides being highly inspired by the music of United States-based artiste Shingisai Suluma together with that of his late uncle Edison Jakarasi who introduced him to music, his main thrust was to highlight that the grace of God was better than any other solution.
The 36-year-old musician, who grew up in Mt Darwin, said he was ushered into singing when he was in Grade 4 by his late uncle who sang with a group called Spiritual Sounds with which he assisted in producing three albums titled Mwari Samasimba, Mavanga and Nyasha.
"I was encouraged to take up music full-time by Reverend Bishop Oliver Chipunza of Flame Ministries in 2005 after he realised that I had a good voice," Ngoshi said.
The local music industry, he said, had immeasurable talent that has been seriously affected by piracy and copycatting.
He also bemoaned the fact that foreign music seemed to get more airplay and recognition over local music which retarded growth of the industry.
"I plan to hold live shows around Zimbabwe and promote my new album. I also would like to collaborate with established musicians who have a positive message for the people like Pastor (Charles) Charamba, Oliver Mtukudzi and Blessing Shumba to mention just a few," he said.