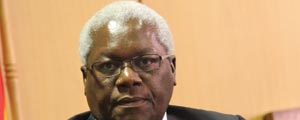 ZANU PF has threatened to clamp down and ban emerging religious groups and sects deemed to be promoting Satanism and homosexuality.
REPORT BY JOHN NYASHANU/BENARD MPOFU
Addressing delegates attending the party's 14th annual conference in Chinhoyi last weekend, Local Government minister Ignatius Chombo who chairs the committee on sports, culture, religion and liberation war heritage, said all churches should be registered and monitored by government to avoid religious fundamentalism.
"Institutions that promote alien practices such as homosexuality and sleeping with children to avoid Aids should be banned," Chombo said.
"All churches must be registered and scrutinised and all churches that are anti-Christ must be abolished because they are promoting Satanism. No girl child must be used for the appeasement of ngozi (avenging spirits)."
Chombo cited the unfolding sex scandals in RMG Independent End Time Message Church led by Robert Martin Gumbura as begging for urgent government intervention.
"New churches that were created yesterday which are emerging all over the country should be monitored carefully to avoid problems we are experiencing such as the Gumbura issue," Chombo said.
Developments in RMG church have shaken the nation amid allegations that Gumbura sexually abused scores of women parishioners, some of them married.
In other churches, particularly the Apostolic sect ones, minors ended up as wives of church members and a lot have remained scot free.
The practice remains rampant despite the law that makes it illegal to be intimate with anyone under the age of 16.
Contacted for comment yesterday, Gays and Lesbians of Zimbabwe director Chesterfield Samba said government's planned crackdown was likely to hit a brick wall.
"You can only legislate against what people do and not against who they are. It's like you are banning the colour blue or banning albinos. When you talk about homosexuality, you are talking about an individual's sexual orientation, just like heterosexuality. So it would be difficult, if not impossible, to ban someone's sexual orientation," Samba said.