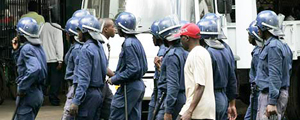 PRESIDENT Robert Mugabe and his Zanu PF party gained a two-thirds majority in parliament and captured the presidency in the July 31 elections.
The polls, tainted by rigging and systematic disenfranchisement allegations, marked the culmination of a four-year uneasy coalition in which Mugabe's party shared power with opposition MDC formations.
The power sharing government, also unfittingly referred to as the government of national unity (GNU), was born out of a protracted political negotiation process led by Sadc, a regional bloc that brings together 15 countries sharing a common history and geography.
Prior to the political settlement that gave birth to the coalition government in 2009, Zimbabwe was engulfed in a vortex of state-sponsored violence that saw thousands of opposition supporters brutally attacked and tens of thousands more internally displaced. In a move that divided regional and international opinion, Mugabe had also unleashed violence on white farmers whose land he confiscated for ostensible distribution to landless blacks dispossessed of their birthright during colonialism.
As his popularity waned and he faced growing opposition in the late 1990s, Mugabe launched a brutal attack on his opponents and also enacted several draconian laws to silence his opponents. A law was passed to muzzle the press and journalists perceived as critical were jailed. Another law banned political meetings and several opposition and civil society meetings were violently broken up as political activists were locked up.
In March 2007, pictures of Tsvangirai, whose head had been bludgeoned by the police, shocked the world prompting Sadc to initiate dialogue between Mugabe and the opposition.
Masterminded by then South African president Thabo Mbeki, the political pact that gave birth to the power-sharing government cited the creation of conditions for free and equal political participation as one of the main objectives of the government.
Many Zimbabweans hoped repressive laws that were reminiscent of colonial subjugation would be repealed to allow citizens to freely participate effectively in political, social and economic processes. To their disappointment, the new government made very little progress as Mugabe and his party used their control of strategic ministries to block legislative and institutional reforms. Efforts by the opposition to have the laws repealed or amended were resisted and by the time Mugabe called elections in July, the same laws that had existed before the GNU were used to deny the MDC free and equal political participation.
Amid serious bickering and resistance by Zanu PF elements in the power-sharing government, a new constitution with an expanded bill of rights was adopted, but it was never implemented in time to change the culture of impunity and lawlessness that existed. Many citizens were shocked that the MDC parties agreed to go to elections in the absence of meaningful legislative reform following the adoption of the new constitution.
What made the situation even worse was the fact that state institutions like the judiciary and the electoral commission had been militarised as Mugabe deployed serving and retired security personnel to run them.
In a chilling repeat of the electoral quagmire of 2008, members of the security establishment, traditional leaders and Zanu PF officials subjected millions of voters to a campaign of subtle intimidation and manipulation.
Mugabe's election strategists reasoned that overt perpetration of violence would bring unwarranted international attention on Zimbabwe, so they devised a plan to harvest from the fear of 2008 without necessarily having to resort to beating or murdering MDC activists and supporters. They deployed traditional leaders (traditional chiefs and headmen) to "educate" citizens who were ordered to "vote wisely", a euphemism for voting for Mugabe and Zanu PF, or the violence of 2008 would return. Soldiers and police officers were also deployed to "educate" voters and again they reminded villagers there would be a repeat of 2008 if they voted for the opposition.
Those that were perceived as hardcore MDC supporters were instructed to feign illiteracy so that they would be assisted to vote. As a result, thousands of voters, including well-trained teachers and nurses, were "assisted" to vote, as they feared for their lives. The strategy paid off as Mugabe and his party swept all the rural districts to claim a resounding victory in the election.
Now that Mugabe is firmly in charge, there are fears that he will close political space to maintain his grip on power. The signs are there already. He has largely ignored implementing the new constitution and has only implemented the sections that are innocuous to his power base. Where new institutions that are supposed to provide checks and balances have been created, he has packed them with his yes-men.
The economy is going to be the biggest test of his tenacity and its collapse will spur more repression by a desperate regime. As the year comes to an end, all the indicators are pointing to more misery for citizens. While the African Union and Sadc have endorsed Mugabe's victory, the European Union and the United States have refused to recognise his government. His continued isolation has resulted in the government failing to access much-needed lines of credit and this has pushed the economy to the brink. China has backed Mugabe politically, but has not provided the financial support that he desperately needs.
Mugabe will face rising citizen despondency and he is likely to respond the same way he did in the late 1990s when the economy went off the rails. He will become more repressive and Zimbabwean citizens will once again bear the brunt of his brutality. The Zimbabwe Independent last week reported government had acquired new equipment for the security sector, now playing a critical role in propping up Mugabe and Zanu PF in power, which includes anti-riot gear and equipment, trucks and armored vehicles.
The few gains made under the inclusive government will be reversed as Mugabe's government closes political space. Whether he will succeed in suppressing popular discontent and possible protests by hungry citizens remains to be seen.
Mangongera is a Zimbabwean researcher. He is currently a Reagan-Fascell Democracy Fellow at the National Endowment for Democracy in Washington DC. He writes in his personal capacity.