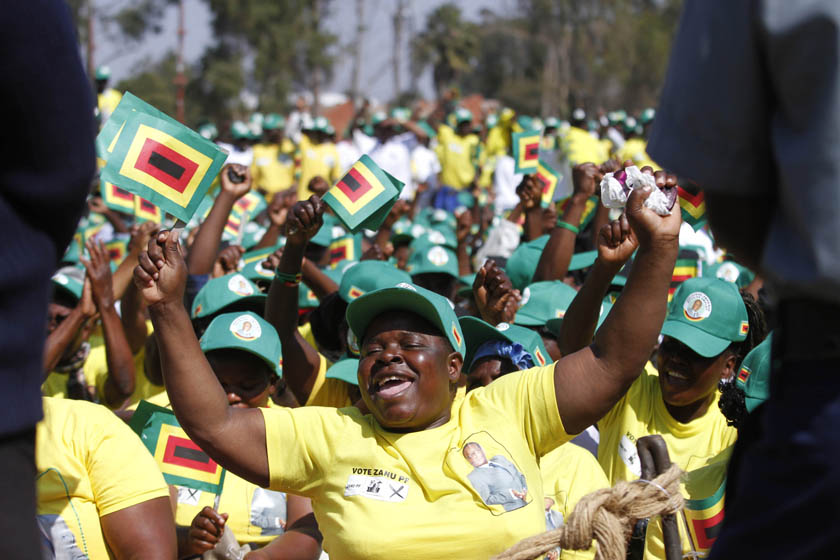 CONTRADICTIONS, lack of political will and continued uncertainty on the implementation of the country's indigenisation laws stands in the way of efforts by the Zanu PF government to revive the economy.
BY OUR STAFF – The Standard
As pressure to deliver on its election promises mounts in the face of a stagnant economy, Zanu PF has put economic revival as a top priority underpinned by the Zimbabwe Agenda for Socio-Economic Transformation (Zim Asset).
The key focus areas of the recently launched Zim Asset are: food security and nutrition; social services and poverty eradication; infrastructure and utilities; and, value addition and beneficiation.
Finance minister, Patrick Chinamasa was recently in Washington where he literally "begged" the International Monetary Fund (IMF) and World Bank to reopen lines of credit and attract direct foreign investment.
In his budget presentation last week, Chinamasa said local and foreign investment were key to the revival of the economy and success of Zim Asset.
But just over a week ago, President Robert Mugabe told his party's 14th annual National People's Conference in Chinhoyi that Zimbabwe should not beg for assistance from outside, while urging Chinamasa to look for money from within, particularly from the mining sector.
Mugabe said Zimbabwe can go it alone by using resources such as platinum, gold and diamonds to raise capital for the country.
"We do not seek growth that rewards and glorifies foreigners, strange growth that catapults us to doubled digits by the way of statistics, while drowning our people into a cesspool of poverty," Mugabe said.
"Growth that exists in textbooks, in overseas boardrooms when here our people are starving. That is not growth and development. We seek growth that lifts all our people into better lives."
Professor Lloyd Sachikonye, a lecturer at the University of Zimbabwe's Institute of Development Studies said Mugabe and Chinamasa's positions were not different, although there might be variations in their public statements.
He said what was important is the realisation that indigenisation was at the core of government's policy despite the differing statements issued by public officials.
Sachikonye said in its current format, indigenisation was not attractive to foreign investors, hence there was an unlikelihood of the successful implementation of the current efforts to revitalise the economy.
"They have to revise it [Indigenisation policy] if investors are to take Zimbabwe seriously," he said. "The past two years have shown that investors will not come in droves if the government insists on 51% local ownership."
Sachikonye suggested a revisit of the local and foreign ownership shareholding percentages or the staggering of the implementation of the percentages like what South Africa did with its Black Economic Empowerment (BEE) policy years back.
He said Zimbabwe was competing for foreign investors with neighbouring countries such as South Africa, Botswana and Zambia, hence the need to come up with an attractive Indigenisation policy. "If we insist on 51% local shareholding while others countries have better options, then we will not be able to attract investment," said the UZ lecturer.
He said the problem with Zim Asset was that it was like other blueprints which have been produced in the past.
Sachikonye said what was really needed were more serious medium to long-term development plans, like the five-year development plans which were there in the past.
"We do not know why they discarded them. Our neighbours have serious national development plans which run for over five years," he said. "These are holistic socio-economic plans and an outcome of bargain between the government and private sector."
University of Zimbabwe political science lecturer, Shakespeare Hamauswa said contradictions on the indigenisation policies were not good for the economy.
"There is need to clear the inconsistences," he said. Hamauswa said fostering public confidence was key to the revival of the economy.
He said money was no longer circulating since the disputed July 31 elections, as people were not depositing it into formal channels due to lack of confidence in the financial services sector.
The UZ lecturer said while the likes of Chinamasa might have the political will to implement the proposed new reforms as they wanted to build their political careers, other forces within the ruling party were working to the contrary.
He said factionalism and fights over Mugabe's succession posed a serious challenge to the implementation of the reforms as the different factions were throwing spanners along each other's ways. "They have to resolve the issue of succession if things are to move," said Hamauswa.
He said the ruling party also needed to come up with a clear policy on how to deal with corruption which is bleeding the economy of billions of dollars in potential revenue.
The political scientist said bodies such as the Zimbabwe Anti-Corruption Commission (Zacc) should be well-resourced and be given teeth to enable them to effectively stamp out graft.
Chinamasa in his budget presentation, tried to come up with measures to improve transparency and accountability in the mining of diamonds in order to reduce leakages of revenue. Currently, little is being remitted to Treasury from diamond mining.
Economist, John Robertson also said the biggest disappointment with the government was that controversial policies such as Indigenisation were not revised but reinforced.
He said threats to prosecute businesses not complying with the policy were not helping efforts to attract investors and creating employment for the over 300 000 students who leave school every year.