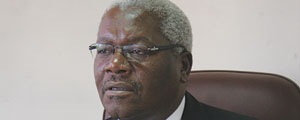 CHITUNGWIZA municipal workers who have gone for 11 months without salaries are engaging in massive corrupt activities to survive, a report by a probe team deployed by Local Government, Public Works and National Housing minister Ignatius Chombo has revealed. JOHN NYASHANU,POLITICAL EDITOR
The local authority has a workforce of 1 700 employees.
According to the land audit report in NewsDay's possession, several workers had resorted to illicit deals such as selling residential stands clandestinely in addition to other unsanctioned projects to cushion themselves.
"The municipality has been failing to meet monthly salaries for its employees which saw the latter going for up to 11 months without same as depicted by the accruing salary arrears. Given this phenomenon, lack of motivation among staff members has caused them to embark on corrupt activities such as illegal land sales and unsanctioned connection of illegal beneficiaries to municipal water and sewer system," reads part of the report.
However, Zimbabwe Urban Councils Workers' Union (Chitungwiza branch) chairperson Ephraim Katsina rubbished the allegations saying employees had shown immense loyalty in the face of an insensitive employer.
"It's all nonsense. We do not allocate stands; they are allocated by directors (ie) director of housing, director of urban planning, director of engineering and the chamber secretary.
"It is also hogwash to accuse them (workers) of connecting water and sewer systems illegally as they only do so under instructions.
"It is common knowledge that workers from Grade 1 to 12 work under orders and if a directive comes from above they merely abide," said Katsina.
In interviews with NewsDay, Chitungwiza municipal workers said the non-payment of salaries had turned them destitute.
"Christmas will definitely be bleak for us. No food on the table, no travelling, nothing. We struggle month in month out to pay rentals at our lodgings. Further to this, schools are opening very soon and many of us will never afford to send our children to school. We have really been reduced to positions of destitution," said one council employee who refused to be named.