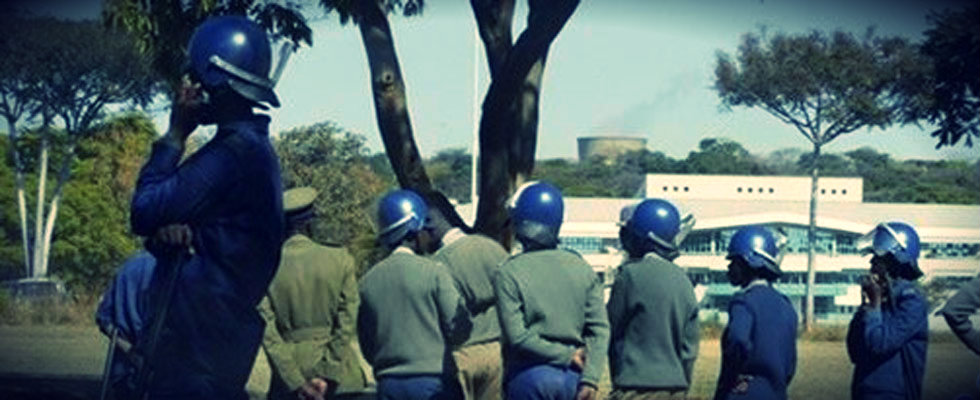 TWO traffic police officers reportedly disappeared immediately after the commuter omnibus they were giving chase fatally hit a man who was crossing a street in Harare's central business district yesterday.
WONAI MASVINGISE,SENIOR REPORTER
Eyewitnesses told NewsDay that the two police officers were chasing after the commuter omnibus wielding baton sticks threatening to smash the windscreen for reportedly contravening traffic laws.
In the ensuing chase, the commuter omnibus struck a male pedestrian who was crossing Chinhoyi Street near Gulf Shopping Complex.
When a NewsDay crew arrived at the scene of the accident near the corner of Bank and Chinhoyi streets, scores of people had gathered around the deceased man's body, which was lying in a pool of blood covered by a white sheet next to the commuter omnibus that hit him.
"This man was run over by that kombi you see in front of him. He was trying to cross the road, but unfortunately he got in the way of the kombi that was running away from the police," one eyewitness said.
"These police officers caused that accident because they were smashing the kombi's windscreen and the kombi driver could not see what was in front of him. When the two officers saw what had happened, they ran away — we never saw where they went."
In April this year, another commuter omnibus ran over a woman at Harare's Copacabana bus terminus under similar circumstances.
Early this year national police spokesperson Chief Superintendent Paul Nyathi ordered police officers to stop shattering commuter omnibus windscreens and any other activities that could endanger the lives of passengers and pedestrians.
"The police should revise their strategy when dealing with kombis because it is causing a lot of deaths especially of innocent bystanders who get run over by kombis that are trying to escape," another eyewitness said.
Police officers have in recent months resorted to smashing windscreens of kombis that pick and drop passengers at undesignated points.
Commuters have complained that the strong physical response was endangering their lives by causing serious accidents in which innocent people were losing their lives.
Efforts to get police comment were fruitless as acting national traffic spokesperson Assistant Inspector Luckmore Chakanza referred all questions to police spokesperson Chief Superintendent Nyathi, whose mobile phone went unanswered.