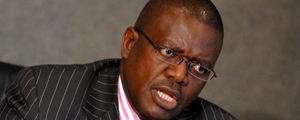 ZIMBABWE media mogul Trevor Ncube yesterday said no one had justification to claim to be more patriotic than others.
EVERSON MUSHAVA
He said there were Zimbabweans who monopolised patriotism and sidelined other people from the country's history including those that made countless sacrifices during the country's liberation struggle.
Ncube was addressing delegates at a media consultative forum hosted by the Zimbabwe National Army in Harare under the theme Media: A vehicle for the promotion of the national interest.
Answering to allegations by some delegates that his media group was perpetuating division among Zimbabweans and compromising national interest and security, Ncube said no one had justification to think that they were more patriotic than others.
Ncube, who is the chairman of Alpha Media Holdings — publishers of NewsDay, Zimbabwe Independent, The Standard and Southern Eye — said his media group was ethical and reported accurately, and could not be forced to ignore statements from military officials that violated the country's territorial integrity by publicly declaring that they would not salute anyone without liberation war credentials as the leader of the country.
"It is something that we cannot just ignore and accept because it is deeply flawed and also unconstitutional. We would be failing Zimbabwe in our duty to report fearlessly if we did not call the army out for this unconstitutional pledge to serve only war veterans," Ncube said.
He said the decision by the army to refuse to support a non-war veteran as a leader of the country secluded agile Zimbabweans who were too young to join the liberation struggle, but have aspirations to run the country.
Security generals have repeatedly vowed not to accept as leader of the country anyone without liberation war credentials.
"The fate of Zimbabwe is intricately tied up with its key institutions and it is important for all of us to encourage these institutions to help deepen and strengthen our constitutional democracy," Ncube said.
National institutions like the army, Ncube said, should be professional and acknowledge that they belong to all Zimbabweans and not a political party or a group of individuals.
"Perhaps the most urgent challenge facing Zimbabweans is to build institutions that are founded on solid policies and laws and not there to serve personality cults no matter how powerful," he said.
"It is our loyalty to the Constitution that must be defended and not individuals when people raise the national flag and sing the national anthem," Ncube said.
He said the national flag was a symbol of unity, but without the rule of law, the symbol would remain hollow.
Unfortunately, he said, in Zimbabwe, politicians took their personal interest to represent national interest.
Media, Information and Broadcasting Services deputy minister Supa Mandiwanzira said the new Constitution gave citizens some rights, meaning that military personnel were now allowed to express their concerns when they felt the founding values of the country were at stake.
He said his ministry was working flat out to fight polarisation in the media through effective consultation.
Mandiwanzira said it was regrettable that divisions between private and public media were sponsored by former imperial powers who wanted to effect regime change in the country.
"We are challenging the media owners to have commercial interest, but do not compromise on national interest," Mandiwanzira said.