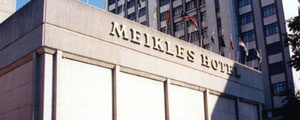 ZIMBABWE Stock Exchange-listed diversified group Meikles Limited's after-tax profit for the six months to September rose to $37,5 million from $767 000 reported in the prior comparative period buoyed by growth in non-trading income.
Report by Acting Business Editor
Basic earnings per share rose to US14,37 cents from minus US0,26 cents. The group, however, did not pay any dividend.
Despite reporting flat revenue during the period under review, investment income, according to the company's financials, significantly increased. Non-trading income climbed to $42,6 million from $3 million in the prior year. Fair value gains on biological assets were however lower than the comparative period.
"The second six months of the financial year will continue to be dominated by growth in non-trading income, primarily investment income," said company chairperson John Moxon.
"There are anticipated gains in investments that will be accounted for in the year-end financials. These gains may include the South Africa interests, where the group has substantial performance expectations, and a first contribution from the group's mining activities."
The company said it had plans to roll out retail outlets for the lower end market in a bid to boost revenues despite slow growth in retail divisions.
"In the short term, it is expected that the retail divisions will continue to encounter demanding environmental challenges particularly tight market liquidity conditions and low disposable income. However, TM Supermarkets will look to benefit from the renovation of its units and the expansion of its branch network, which is gaining momentum," Moxon said.
Turning to the funds owed by the Reserve Bank of Zimbabwe (RBZ), Moxon said: "There are indications that a solution to our long-standing deposit at the RBZ may be forthcoming shortly.
"When this solution is achieved, the group expects to retire short-term borrowings, and if necessary assist group companies with the redemption of loans on due date." The central bank owes Meikles $76,5 million dating back to 1998. The debt was accrued from transactions related to the group's dual listing on the Zimbabwe Stock Exchange and the London Stock Exchange.
The group, Moxon added, would also be in position to provide funding for further working capital for its units as well as support the employee share schemes under the country's empowerment laws.
Last week, Meikles Limited shareholders approved the allocation of 10% of the company's shares to employees as the implement part of its compliance with the indigenisation law.
This came two years after the shareholders authorised that 24 million unissued shares be placed under the control of the employee share ownership scheme. The shares then represented 8,91% of the issued share capital.