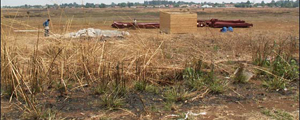 For years a land scam has been going on in connivance with politicians, local councillors and some senior Zanu PF officials in government.
NewsDay Editorial
In the past few months, NewsDay exposed the mammoth land scam in which thousands of acres of prime land around Harare were leased out for a pittance and the loss to Treasury has been valued at millions of dollars.
Besides, thousands of poor homeseekers were also fleeced by well-to-do politicians in the run-up to the elections on July 31, as a campaign gimmick. Now disclosures that those illegal housing co-operatives in Chitungwiza collected over $20 million from desperate homeseekers for illegal residential stands, exposes the rot in our society. The disclosures by a probe team appointed by Local Government minister Ignatius Chombo indicate massive land theft. What is sad is that most of the illegal stands were located on wetlands or on land earmarked for schools or clinics.
The audit team chairperson Ronald Chimowa said the results of the report were astounding. According to the report, as many as 23 074 illegal stands valued at $20 423 900 were created in Chitungwiza by a number of land barons accused of running a parallel authority in the dormitory town. Of those stands, 14 460 houses face demolition, 8 260 were allocated in unsuitable areas in Chitungwiza, while 6 200 are in Seke communal lands.
This scam once again raises the crucial question: Why did this happen under the nose of the Local Government ministry in the first place? The facts have been established and the courts should take cognisance.
Why has it taken so long for Chombo to report the matter to the police so that the culprits, the leading one being the ruling Zanu PF party councillor for Chitungwiza ward 25, Fraderick Mabamba. We believe this matter would have stayed under wraps if NewsDay had not decided to blow the whistle months back. Despite the fact that these illegal stands allocations were causing a huge loss to the homeseekers while benefiting a few chosen families, the local authority never really challenged the illegal set-ups.
Interestingly, the report fingered Mabamba as the main culprit who sold the bulk of the illegal stands through his United We Stand Multipurpose Co-operative.
"There were some stands that were allocated on a school site in St Mary's. In Unit A, we found stands that were created on a clinic site and this adversely affects the people themselves because they will now have to walk long distances to get such services," Chimowa said. "It doesn't need an engineer to see that these areas are not suitable to build on. Stands were created on top of a stream in Zengeza and you can tell by the vegetation surrounding the area that it is clearly a wetland. In Unit G, we found stands that were created on a road blocking stormwater drainage systems. In another area, we found stands allocated between high-voltage Zesa lines."
Now, that over 14 000 people who lost their money to cooperatives will lose their properties, either because they were built on unserviced land or public places, we believe the police should move in to arrest the culprits. They should not wait for anyone to report the matter. The audit report is now public and naturally we want to believe that the State has an interest in this case. Whether it was a cover-up or not, Mabamba's suspension by Chombo last week should ensure that he and his handlers are duly prosecuted.