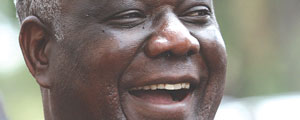 MUTARE — Former Housing minister during the tenure of the inclusive government Giles Mutsekwa, embattled Mutare mayor Tatenda Nhamarare and two others appeared before Mutare magistrate Sekesai Chiundura facing assault charges on Thursday.
BY OBEY MANAYITI
The four MDC-T officials, including Kingston and Raphael Mutandi, are pleading not guilty to the charge which allegedly happened in June this year in the build-up to the July 31 harmonised elections.
They are charged with assaulting Mutare ward nine councillor Chrispen Dube, following a misunderstanding near Zesa's Megawatt building in the city. The assault allegedly happened during the campaign period in which Mutsekwa was battling against party rival Arnold Tsunga, in the Chikanga Dangamvura constituency that was subsequently won by Tsunga.
Charges against the four are that on June 7, councillor Dube was outside the Zesa Megawatt building when he was approached by Mutsekwa and Kingston Mutandi, who were in a Toyota Prado vehicle.
Mutandi is alleged to have disembarked from the vehicle and confronted Dube accusing him of decampaigning Mutsekwa from being confirmed as the party's candidate in the elections.
According to the State, Mutsekwa incited the other three accused persons to deal with the complainant.
It is alleged that Mutandi grabbed Dube by the collar and head-butted him once.
It is at this moment that the State alleges that Nhamarare and Raphael Mutandi joined in the assault hitting the complainant with fists and booted feet all over his body after they had tripped him to the ground.
As a result of the alleged mob attack, Dube sustained cuts on the upper and lower lips, five loosened teeth, painful left elbow, painful left hip and some other bruises.
The matter was postponed to January 9 and 10, 2014 for trial as the accused's defence lawyer, Chris Ndlovu, was out of town.
Malvern Musarurwa prosecuted.