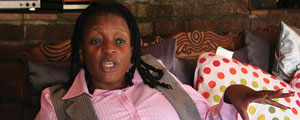 MEMBERS of Parliament yesterday called for the demolition of the current Parliament Building to enable its extension as it was failing to accommodate the increased number of MPs and Senators.
VENERANDA LANGA,SENIOR PARLIAMENTARY REPORTER
The motion was moved by MDC proportional representation MP Priscilla Misihairabwi-Mushonga, who proposed that a Presidential proclamation be made to enable parliamentary sittings to be held preferably in Bulawayo while the Parliament Building undergoes renovations.
Misihairabwi-Mushonga said standards at Parliament had dropped with legislators attending sessions "squashed like sardines".
"Just to show how much Parliament has fallen and how we have been reduced as MPs as we attended the official opening of this Parliament, women and men were standing in different queues because the ladies were afraid to be squashed by the men and that is not the way it should be," Misihairabwi-Mushonga said.
"Every other Parliament in the region right now even other Parliaments in small countries like Lesotho and Swaziland have wireless networks and other ICT facilities, yet here we have been reduced to the extent we invite people to a committee and they are not even given water to drink."
She demanded that the legislature be treated the same as the other three arms of government, saying they were being treated like they were "the poor cousins" and less important.
"Having MPs sit in the Speaker's Gallery is totally unacceptable for elected people and the first option is to have capacity to be able to find a temporary venue. I am now giving a proposal to say given the fact we have not been able to build the Parliament at Kopje for 13 years, we need to take the legislature elsewhere. My proposal is to say Bulawayo."
She said renovations should commence during the Christmas holidays where Parliament walls must be demolished and the House extended.
The motion was seconded by Kuwadzana MP Lucia Matibenga (MDC-T) who said moving Parliament to another site would augur well with the spirit of devolution.
Zanu PF chief whip Joram Gumbo said his party supported the motion, adding space constraints were not only happening in the Zimbabwe Parliament, but were common occurrences at the British Parliament.
Binga South MP Joel Gabbuza (MDC-T) said it was possible to renovate Parliament Building and add extra 80 seats, adding the building was an embarrassment and an eyesore with twines hanging on microphones, different colour paintings on walls and patches.
Bulawayo East MP Thabitha Khumalo (MDC-T) said MPs were exposed to airborne diseases due to overcrowding. But MP for Gokwe Dorothy Mhangami (Zanu PF) said renovations would be expensive.