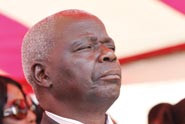 ENERGY minister Dzikamai Mavhaire was on Tuesday summoned to appear at the Harare Civil Court over a $1 200 monthly maintenance claim filed by his ex-lover Makosi Mildred Bere for the upkeep of the pair's three-year-old child.
CHARLES LAITON
The case was deferred to Thursday next week after Mavhaire's lawyer Belinda Rupapa said her client was out of the country on government business.
In her maintenance application filed as case number M4892/13, Bere said she had resolved to take the legal route after previous attempts to settle the issue out of court with the minister proved fruitless.
She accused the Zanu PF minister of avoiding her and ignoring several phone calls made to him.
Bere is demanding $1 229 for the upkeep of her child, adding that she believes the minister earns about $10 000 and has the capacity to foot the bill.
Bere claims Mavhaire's support for the minor child terminated just after she got married to another man.
"I have known the respondent for many years. We started a relationship in the year 2008, resulting in the minor child being born in 2011," Bere said.
"In late 2011, we ended the relationship and I moved on with my life and at that time, respondent (Mavhaire) would give me money when I requested for it and at times he would leave some with my sister who was in Masvingo.
"The problem started when I got married to another man and respondent started refusing or neglecting to maintain the child. I have made several telephone calls to him and he has not been responding. Of late, he has been giving his mobile phone to his aide and driver with whom I have left several messages and he has ignored," Bere said.
The matter is now set to be heard before magistrate Vongai Muchuchuti next Thursday.