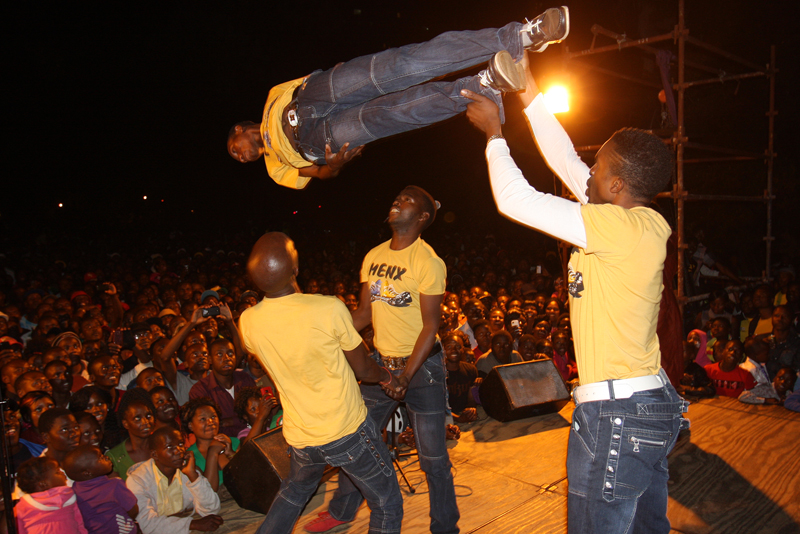 SUNGURA maestro Alick Macheso's uncharismatic lead dancer Selemani Mpochi aka Majuice on Friday exposed himself to scrutiny when he pushed photographer Takawira Dapi on stage at New Life Nite Club in Budirio.
BY HARDLIFE SAMUWI
Dapi, popularly referred to as Photovet was going about his duties taking photographs on stage when Majuice pushed him violently.
But, Dapi who could not have any of it seemed unperturbed and calmly told the young dancer off as the scuffle was drawing attention of the fans. Security had to intervene while Macheso continued with his routine as if he had not noticed what transpired.
Although Majuice could not be brought to comment, Dapi said the dancer's fury came from an analysis that he did in a local tabloid.
"I wrote analysing his reign as a dancer comparing with Franco Slomo (Francis Dhaka) and my assertion was he is beaten hands down. Apparently that did not go down with him yet still that does not warrant his behaviour," said a calm Dapi.
Some of Majuice's co-dancers also expressed displeasure at his behavior and said sometimes they were instructed to slow down their pace.
"Whenever one seems to dance better than Majuice they are instructed to stop competing with him as the lead dancer," said a dancer who refused to be named. Meanwhile, Macheso took time to dispel talk that he is on the verge of losing band members due to failure to pay competitive salaries.
He bragged he is the best paying band leader with his bouncers earning $100 per week.