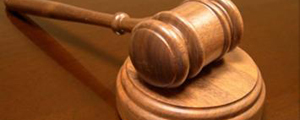 EX-BULAWAYO High Court judge, Justice Nicholas Ndou, who resigned from the bench on December 31 last year, has dismissed claims that he has taken up a position on the Namibian bench, saying he is based in Bulawayo where he is conducting personal businesses.
SILAS NKALA,STAFF REPORTER
Justice Ndou has been re-engaged on an acting capacity by the High Court to finalise cases that he left hanging, among them the Mthwakazi Liberation Front (MLF) leaders' treason case.
Justice Ndou's resignation was announced by Judge President George Chiweshe at the official opening of the 2013 legal year at the Bulawayo High Court early this year.
The local media was awash with reports that Justice Ndou resigned to be a judge in the Namibian High Court. But Justice Ndou clarified the issue before presiding over the MLF case saying: "I want to clear the misconceptions which have been reported here mostly by the local media that I am now employed by the Namibian judiciary. It is not true.
"Before I left the judiciary, the Namibian judiciary had asked the Zimbabwean judiciary to recommend a judge to deal with two cases which involved their judiciary officials. I was recommended to go and deal with those two cases. I went to Namibia for two weeks only and came back. I am not attached to (the) Namibian judiciary though they need my services when supposed.
"I am not in Namibia. I do not stay there. I am not on their payroll; they just pay me for the services I render. I am a full-time resident in Bulawayo administering businesses. I just want to clear this misconception."
Justice Ndou is dealing with the case involving MLF leaders Paul Siwela, Charles Thomas and John Gazi, who are charged with plotting to overthrow President Robert Mugabe's government through unconstitutional means.
Meanwhile, Justice Ndou yesterday indicated that he would deliver judgment on the trio's application for discharge tomorrow.
"I will be able to summarise the ruling soon and by Thursday it will be delivered," he said.