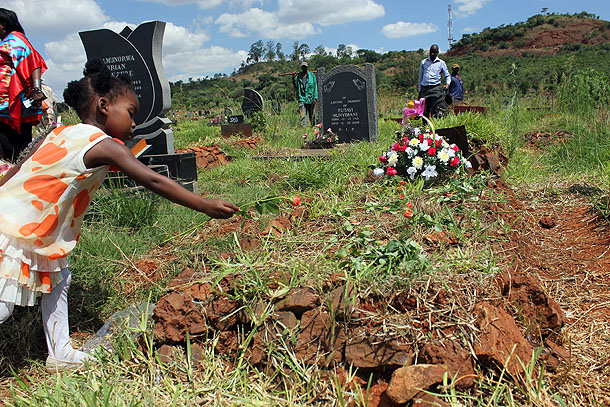 A SOMBRE atmosphere enveloped Harare's Warren Hills Cemetery yesterday when gender activists drawn from Harare West led by their MP Jessie Majome converged at the tomb of gender-based violence victim Shamiso Charity Sabau (nee Mukarati) to commemorate the fifth anniversary of her death.
BY VENERANDA LANGA/WONAI MASVINGISE
Sabau was shot and killed by her ex-husband Dickson Kokwani Sabau on September 1 2008 after their marriage had irretrievably broken down and the divorce proceedings had just been completed.
Her former husband is currently serving a 16-year jail sentence for the murder.
She left behind eight children.
The cemetery event was also graced by United Nations Artists Advisory Council for Southern Africa gender champion and musician Albert Nyathi.
Listen to Albert Nyati below:
Said Majome: "I represented Charity as her lawyer during her divorce case at the High Court and I feel the courts and police failed to save her life because on the fateful day she was shot in the presence of police officers.
"The High Court failed her in that they were granted a divorce order whereby they were forced to continue to share property at the same premises where the ex-husband continued terrorising her."
Majome said Charity was granted several peace orders, but her former husband continued to breach them until the time he murdered her.
Speaking at the same event, Charity's 32-year-old son Vusa Dzimwasha said: "These graves have a lot of stories to tell on GBV (Gender-Based Violence). What really hurt us the children of the deceased was that justice was delayed and it took two years for judgment to be made. After sentencing and as Sabau was being ushered to prison, he even had the guts to shout to us saying his situation was better off as he would eventually come out of prison but my mother would never rise again."
A talented actor, Dzimwasha also launched the Artists for Hope Trust at the cemetery event which aims to fight GBV through the arts with Majome as its patron.
Listen to Vhusa Dzimwasha speak about the man who murdered his mother:
Tag-A-Life International programmes officer Lazarus Nyamwiwa said GBV should be nipped in the bud before more people lost their lives.
Meanwhile, the 16 Days of Activism Against Gender-Based Violence campaign ends tomorrow amid reports that two-thirds of Zimbabwe's female population had experienced some form of gender violence during their lifetime.
In a speech read on her behalf at the launch of the Violence Against Women baseline study report, Women Affairs, Gender and Community Development minister Oppah Muchinguri told gender activists in Harare yesterday that there was need to mobilise communities to change their perception about women.
"Key findings of this study indicate that 69% of women experienced some form of violence in their lifetime while 41% of men admitted to perpetrating intimate partner violence," Muchinguri said.
"Results of the research further indicate that about a quarter (26%) of women in Zimbabwe experienced some form of violence (psychological, emotional, economic, physical or sexual) perpetrated by an intimate partner in the period 2011-2012."