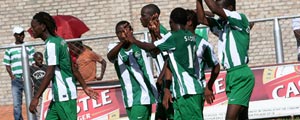 TARISAI Rukanda has completed his switch from Shabanie Mine to cross town rivals FC Platinum, NewsDay Sport can confirm.
EPHRAIM SHOKO /MUKUDZEI CHINGWERE
Rukanda's switch is likely to inflame the rivalry that already exists between Shabanie Mine and FC Platinum.
Sources close to Rukanda told this paper that the bustling striker put pen to paper last week to seal a one-year deal with the Platinum miners.
FC Platinum spokesperson Chido Chizondo could neither confirm nor deny signing the forward, but confirmed that the club had been in contact with Rukanda in recent weeks.
"Negotiations on recruiting Tarisai were at an advanced stage the last time I was briefed. But my bosses have not yet officially communicated with me if they have reached an agreement with him (Rukanda)," said Chizondo.
Although Chizondo was not yet aware of the latest developments, insiders within FC Platinum confirmed the signing of Rukanda, but refused to go on record in fear of breaching protocol.
"Tarisai is now our player. We have concluded discussions with him. But contact Chido (Chizondo) she will give you the official communication as she is mandated to speak on the club's behalf," said the source.
Rukanda's switch to FC Platinum is expected to rekindle his lethal partnership with Nelson Maziwisa which saw the later finishing top of the goal-scoring charts in the 2012 season when he was on loan at Shabanie Mine.
Maziwisa is also reported to have renewed his contract with FC Platinum ending speculation linking him with a move to Dynamos. Rukanda's departure from Shabanie Mine comes a few days after coach Luke Masomere also reportedly left the club for Buffaloes after agreeing to a one-year deal.
A number of senior players at the asbestos miners are reported to be on their way out after they have grown increasingly frustrated with the club executive's inability to reward them financially.
The BancABC Sup8r champions' woes have been compounded by their parent company Shabanie Mashava Mines failing to open for asbestos mining despite attempts by the cash-strapped Government to inject cash.