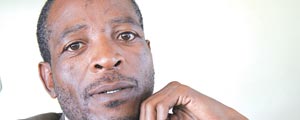 It requires the natural mind of a lawyer – with that natural instinct to save clients from conviction – to psyche itself into believing fiction as fact, to the point of finding it necessary to believe that a murderer, whose hands are dripping blood, is innocent. That must be the basic ingredient of a successful lawyer's mind.
Landscape by Tangai Chipangura
This can be the only explanation for the conviction that we saw in the face of Finance Minister, Patrick Chinamasa as he presented the 2014 national budget last Thursday afternoon in Parliament. There was all the evidence that Chinamasa had no real budget to present.
One needed to be exceptionally given with the ability to believe in self-created fiction to be able to present that Shangri-La of a budget and still maintain a straight face the way Chinamasa did.
Being a lawyer by profession, this act of believing in the absurd was clearly not a difficult task for Chinamasa. He received deafening bench-punching applause from the Zanu PF — dominated House when he acknowledged the "Zimbabwe Economy is Dead!"
Chinamasa agreed his predecessor, Tendai Biti, was right in his observation that the Zimbabwean economy was dead — but there had to be an acceptable and justifiable explanation. Like seed, he said, the economy needed to die first before it germinated again! It was necessary that the old economy must die to give way to the birth of a new economy whose support base would be Small and Medium Enterprises (SMEs), like gold panning and flea markets.
Every economist worth his salt has spoken about Foreign Direct Investment (FDI) being the answer to the country's economic problems, but Chinamasa does not seem to think like that – which is why he did not find it necessary to dwell on FDI in his budget, but instead focused on the need to propel indigenisation policies that have sparked investment flight.
There is nothing in place in this country to ensure collection of taxes from gold panners or any SMEs on which our new economy, born from the death of the old one, must be anchored. Yet Chinamasa confidently says tax revenues will constitute $3,824 billion of the total $4,120 billion budget that he presented.
To the ordinary person, Chinamasa's budget did not bring any joy. There was no mention of salary or bonus tax relief to bring any Christmas smile to those that are still formally employed. Not that there could have been much meaning to the generality of Zimbabweans, given that over 80% of employable Zimbabweans are without jobs – in fact, of the few that are employed, 300 are now losing their jobs every week!
The reality of what is happening in Zimbabwe is that the people will not be able to celebrate Christmas Day tomorrow. There is just no money to buy Christmas goodies. Like that forgettable 2007-9 black period, there will be no new clothes for our children or the traditional chicken and rice on our tables.
Signs are already on the wall in the form of empty cities where shops should be bustling with Christmas shoppers this time of the year. The usually packed clubs and bottle stores are quiet and everyone is asking everyone else what's happening. The answer is that it is going to get worse as we approach the New Year when the school fees nightmare begins to haunt parents.
There is no doubt that things have gone very bad again since 2008 and that the suffering and misery of that dark past is upon us again. There is no doubt too that this "landslide" towards renewed suffering began soon after the July 31 election "landslide" victory by Zanu PF.
That is despite the fact that Zanu PF achieved that "landslide" after promising voters that they would deliver better life as soon as the MDC was kicked out of government. The reasoning was that the MDC was hindering Zanu PF from implementing its progressive policies that would have seen people enjoying much happier lives.
Why then is it that life has become such a misery after the exit of the MDC from government? Zanu PF is on its own – implementing its own policies with no one opposing them in Cabinet or in Parliament. The sanctions mantra cannot continue to have currency.
Granted, it would be too much to expect Zanu PF to have improved our lives a few months after the formation of the new government – but then should things get this worse?
These are the questions that the ordinary Zimbabwean is looking answers for. They ask that if it is too early to have improved, why did it not at least remain the same before it got better? During the GNU, banks did not run out of cash and more companies opened with more people getting jobs than was the case before the inclusive government.
After the elections and the landslide victory, there is no money at the banks; companies are closing; nobody has money and Zimbabweans are fleeing the country in droves.
Perhaps the last hope that the people had was the budget. But Chinamasa told them it was necessary that the economy should die.
But then Chinamasa is not without admirers. Buhera South legislator, the goodwill ambassador for G-tel, Joseph Chinotimba, said Chinamasa was one of the best Finance ministers since independence. "Everything he presented was the best," Chinotimba said. "Zvasiyananezva Biti. He spoke what resonates with the people of Zimbabwe. If implemented, it will make everything right."