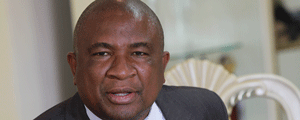 THE much-hyped divorce between Phillip Chiyangwa and his wife Elizabeth is not likely to fall through after it emerged the businessman's relatives met with the wife in London at the weekend to consider conciliation as an alternative to a nasty public split.
BY EVERSON MUSHAVA
Chiyangwa's close relative John Mapondera yesterday confirmed that he met Elizabeth in London on Saturday to discuss the feud and to get her side of the story. Mapondera — upon his return from London — also met the Chiyangwa family to discuss the issue on Sunday.
"I suggested to her that she (Elizabeth) needs a cooling-off period so that we can work on this without public pressure," Mapondera said.
He said during the cooling-off period of about six months, the case would remain open in the courts while the parties seek conciliation.
"She was naturally upset and I suspected (from the discussions) that she needs her position to be acknowledged and she wants her future and that of her children secured.
"We will, as families, seek to ensure that we put in place structures to secure her future, and it is my hope that this will be agreeable," he said.
Elizabeth, in her divorce papers through her lawyer Isiah Mureriwa, said: "The Defendant (Chiyangwa) has successfully alienated his love for the Plaintiff to other several women to the extent that the Plaintiff does not consider that the Defendant has any genuine love for her, which conduct Plaintiff regards as irreconcilable with a continued marital relationship."
But yesterday Chiyangwa said Mureriwa had mishandled the case by misrepresenting Elizabeth in filing the suit for divorce. He contended that the matter was "legally dead".
"This matter is legally dead," Chiyangwa said. "He has mishandled the case. This guy went too far.
"He (Mureriwa) came out with his guns blazing, he offloaded, totally misrepresenting my wife. I will go after him using my lawyers. I have done reports to the necessary authorities and this guy must be exposed."
Mureriwa yesterday, however, refused to be dragged into the wrangle with Chiyangwa.
"Every lawyer acts on instructions," Mureriwa said. "It's not appropriate for the matter to get that far now because it is before the courts and due process has to be followed. I wouldn't want to be dragged into that discussion because it is out of fora. This reported matter is before the courts through which it will be dealt with."
Documents in this paper's possession show that Chiyangwa has ring-fenced his wealth into a family trust where Elizabeth is a member alongside the businessman's nine children, two of whom — Ellen and Michelle — are Elizabeth's .
"The income derived by the Trust Fund from time to time from the aforementioned assets shall vest in the donor's family, Phillip Chiyangwa (54), Elizabeth Jumah Chiyangwa (48), Bruce Chiyangwa (32), Ellen Chiyangwa (28), Michelle Chiyangwa (24), Tamara Chiyangwa (20), Loreto Margaret Chiyangwa (23), Stephanie Chiyangwa (27), Edmund Chiyangwa (29), Phillip Munetsi Chiyangwa Junior (14) and Cherish Natasha Chiyangwa (19) and their descendants in such manner and in such share or shares as the Trustees shall decide upon from time to time in their sole and absolute discretion."
Elizabeth — who is demanding an 85% stake in Chiyangwa's business interests — is also seeking maintenance of $83 000 a month from the date of the granting of the decree of divorce for a period of 120 months from Chiyangwa's empire, valued at around $270 million. Sources also told NewsDay that Chiyangwa's children are also mulling applying to be joined on the matter because they are members of the Trust.
It has also emerged that Chiyangwa's lawyers had up to yesterday not received the divorce summons that were lodged in the High Court last Monday.
"We have been instructed to place it on record that as at the time of publication of the article and the delivery of this letter to your offices, our client had not been served with the said application," Chiyangwa's lawyer, Addington Chinake, wrote to the High Court registrar yesterday.
"Firstly, we are concerned that his personal affairs have been published in a national newspaper at the time the proceedings are essential between the parties and the judicial system.
"Secondly, we request authority to obtain a copy of the said application to enable us to take full instructions from our client, since this matter is already in the public domain."
On November 29, Mureriwa admitted the papers had not been served to Chinake and proposed a meeting between the two legal firms to "manage this issue without allowing it to cause unnecessary bad publicity on both parties".