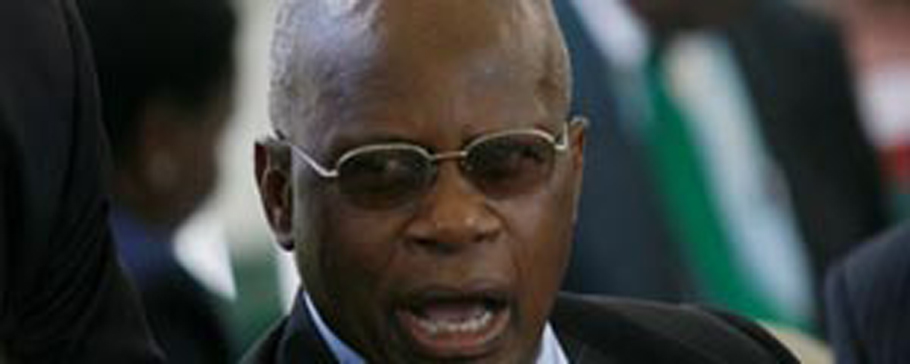 FINANCE minister Patrick Chinamasa has threatened to act on banks and other financial institutions that have raised interest rates following the lifting of a memorandum of understanding putting a cap on bank charges and lending rates.
By Tarisai Mandizha
Presenting his budget last week, Chinamasa said the financial sector was facing a number of challenges which included lack of confidence, under-capitalisation, increased non-performing loans, absence of an inter-bank market, market illiquidity, and failure to meet customer Real time gross settlement systems (RTGS) instructions, limited lending, and high lending rates.
Last month, the Reserve Bank of Zimbabwe made an about-turn on the issue of bank charges, giving banks the green-light to review their charges, effectively revoking a memorandum of understanding (MoU) with banks signed early this year, whith the RBZ.
"I have, however, noted with concern the recent astronomical increases in bank charges by some of the banking institutions. In this regard, I would like to sternly warn such institutions that government will not hesitate to regulate bank charges and interest rates if banks fail to self-regulate," Chinamasa said.
Chinamasa said the Reserve Bank of Zimbabwe and local banks are also planning to set up credit reference bureaux amid concerns that an increase in non-performing loans could destabilise the fragile financial services sector.
Official figures show that average non-performing loans to total loans ratio increased from 1,8% as at December 31 2009, to 15,64% as at 30 September 2013. In June 2013, non-performing loans were at 14,51% while regional best practices are below 3%.
"The Reserve bank of Zimbabwe (RBZ) and the Bankers' Association (BAZ) are spearheading the operationalisation of the Credit Reference Bureaux. The necessary legal frame work will be put in place," Chinamasa said.
The Finance minister also proposed to recapitalise the central bank to boost confidence in the banking sector.
"Confidence in the financial sector is paramount for enhancing liquidity within the economy. Unlike during the period preceding the multi-currency system when the Reserve Bank still had a lot of influence on the liquidity available in the country, the current environment requires that the country earns whatever liquidity it needs," Chinamasa said.