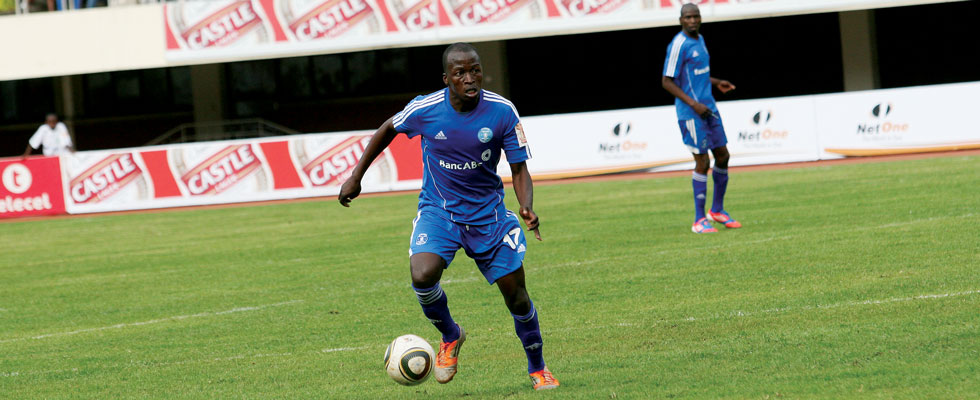 DYNAMOS midfielder Devon Chafa is set to join former boss Lloyd "Samaita" Mutasa at FC Platinum amid speculation that he has agreed personal terms with the Zvishavane-based side.
BY MUKUDZEI CHINGWERE SPORTS CORRESPONDENT
The midfield hard man missed the better part of the second half of the 2013 Premier Soccer League season following his suspension by Fifa after testing positive for a drug with a prohibited substance.
At the time of his ban, Chafa had acquitted himself well as the preferred first choice to shield the Warriors midfield and will now miss the third edition of the African Nations Championships (Chan) which get underway in South Africa on January 11.
Chafa, whose transition to professional football is heavily indebted to the FC Platinum mentor who brought him to Dynamos when he was still coaching the champions, is likely to pounce on a chance to reunite with Samaita.
Samaita and Dynamos coach Kalisto Pasuwa are believed to have made a gentleman's agreement that they would never bid for each other's players.
But Pasuwa sold Mutasa a dummy when he formally enquired about the availability of Donald Ngoma and Nelson Maziwisa as he sought to boost his squad for the Champions League.
A source within the platinum miners told NewsDay Sport that Chafa had agreed to join them next season.
"We spoke to him and he agreed to join us. We agreed on his salary and signing-on fees. We are now waiting for him to come this side to officially sign his contract. But the deal is still closely guarded because authorities fear jeopardising it before it is concluded," the source said.
Platinum media liaison officer Chido Chizondo refuted the reported negotiations with Chafa, dismissing them as mere speculation.
"We have not agreed anything with Devon (Chafa), but he is part of our wish list like any other player we might sign during the transfer window.
"We made an inquiry about his availability in the mid-season transfer window and failed to lure him, but this time around we have not yet made any advances for him," Chizondo said.
Sources at Dynamos yesterday also indicated that the midfielder was headed for FC Platinum, who finished the season in fourth place last season and want to launch an onslaught on the league title.
Platinum have already signed Tarisai Rukanda to replace the Highlanders-bound trio of Welcome Ndiweni, Joel Ngodzo and Charles Sibanda.
Dynamos will, however, resist any attempts to prise from them the highly-rated midfielder as they have provisionally enlisted him in their Champions League squad. But their efforts to retain Chafa's services appear doomed as the well-funded platinum miners, who also operate a fuel service station and night clubs in Zvishavane, have the financial muscle to outdo their opponents in the transfer market.
The owners of the player, DC Academy, are likely to favour a move to Midlands as it will come with huge monetary benefits for them and the player as compared to the financially troubled Harare giants, although DeMbare will have the platform to market the player in the African safari.