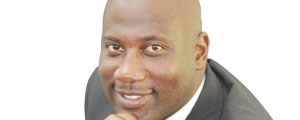 A new year always offers opportunity to renew your drive for life. It is time to be rejuvenated, refreshed and energised to face the future.
Sermon of the Week with Pastor Erasmus Makarimayi
As you review and reflect on the year that's ending, you need to forget your past errors. It is like you have been given a new lease of life. I offer today's piece to you all that believe in my spiritual advice. I am convinced that the future holds better prospects than the past.
The reason that you are alive today is proof of God's grace to make your future better. At the end of 2014, let me hear a different story from you.
Everyone, including me, made mistakes in 2013 and in the years before. 2014 provides a great opportunity to put things right. You may have disobeyed God or closed your inner ears to the prompting and leading of the Holy Spirit.
Many disregarded the instruction of wisdom and whisper of conscience and landed up in quagmire. As you look ahead, start 2014 on a tabula rasa. If you submit to God, the blood of Jesus will wipe out all your past sins and you will move ahead with life a free person.
Receive the grace of Psalm 103:12 which reads: "As far as the east is from the west, so far hath he removed our transgressions from us."
In mid 2013, The Lord led me to study the story of Abraham and Lot. The Spirit of The Lord hinted to me that 2014 was going to be a year of rescue based on how Abraham rescued Lot. Genesis 13 records the story of how Abraham separated with Lot because the land could not hold both of them due to the multitude their flocks.
Abraham gave Lot the option to choose his preferred land first. Lot chose the land in the confines of Sodom which was later attacked and Lot was taken captive. In Genesis 14, Abraham came with his army and rescued Lot, his nephew. Genesis 14:14, 16 read: "[14] And when Abram heard that his brother was taken captive, he armed his trained servants, born in his own house, three hundred and eighteen, and pursued them unto Dan. [16] And he brought back all the goods, and also brought again his brother Lot, and his goods, and the women also, and the people."
For purposes of this presentation take Genesis 13 as 2013 and Genesis 14 as 2014. Your foolish decisions of 2013 will be corrected in 2014. Because of greed and selfishness, Lot chose the portion of land that would be reason for him being taken captive.
He was greedy because his heart in choosing the fertile land meant that he relegated his uncle to unproductive land. He was self cantered and egoistic because he preferred his satisfaction above the interests and wellbeing of his uncle. If he had asked his uncle, who was a prophet, to choose first he was going to come up with a solution that would satisfy both of them.
In an effort to be free and be independent and pursue your dreams, you made monumental mistakes. In your bid to be your own man/woman you chose disaster instead of wisdom. As a nation and as individuals, we made serious mistakes in an effort of becoming self sustainable.
The New Year offers you grace to repent and accept divine correction. God has seen your predicament and a rescue package is coming. God sent His Son Jesus Christ to rescue a dying world. Surrender to Him and seize the opportunity. Isaiah 1:19 invites you thus: "If ye be willing and obedient, ye shall eat the good of the land." Abraham recovered everything and in the same spirit, there will be recovery of everything.
As a nation, let us be humble and get the rescue package God is sending. I write to those in authority, the decision makers and policy formulators. Don't be hardhearted and stiff necked. Business people and entrepreneurs, the year favours you.
Industrialists, miners and bankers, grab the spirit of the moment? To the ordinary reader, accept the correct way of doing things that God is releasing in 2014. Marriages will be salvaged. Jobs will be restored. There will be rescue from personal mistakes, restoration from losses, restitution, recovery and redemption. Wreckages will be salvaged. Dying dreams will be resuscitated.
Many decomposing things will be retrieved and brought to life. Dry bones will live again. The Spirit of God is moving upon every fainting and dying situation and circumstance. Abandoned projects will breathe again.
There is hope for you in 2014. The cheque is open, put your name and amount. You are going somewhere.
All Scripture quotations are from the King James Version of the Bible. Feedback: pastor@newgatechapel.org. Follow Pastor Makarimayi on Facebook and on www.twitter.com/PEMAKARIMAYI
Related Topics