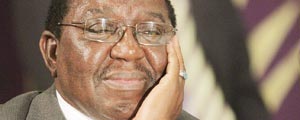 ARMED riot police had to be called in to quell violent clashes between fighting Zanu PF factions amid vote rigging allegations during Saturday's provincial elections.
Elias Mambo/Herbert Moyo
Police in Gutu and Bikita had to be called in to stop the clashes between perceived supporters of Vice President Joice Mujuru and Justice Minister Emmerson Mnangagwa after violence broke out.
Sources in the volatile Masvingo province said allegations of tempering with the voters roll were raised after a number of people failed to vote in Saturday's elections.
"Hundreds of people did not find their names on the voters roll yet they were part of the electoral college," said a highly placed source in Masvingo.
"The names that were sent to the headquarters (in Harare) are different from those on the voters roll meaning that someone tempered with the registers."
However, despite the chaos Zanu PF national chairman, Simon Khaya-Moyo told journalists yesterday that: "The elections were held in an atmosphere of peace and this is indicative of the unity prevailing in the revolutionary party contrary to negative reports from the private media."
"I am aware that some inconveniences could have been caused by inadequate provision of transport, late arrival of ballot papers and inaccuracies in some registers. Corrective measures were promptly taken where applicable."
In Bikita police had to arrest some supporters who threatened violence after they were barred from voting.
"The same scenario took place in Bikita as well and we hope this will be resolved since the results do not reflect the will of the people," sources said.
The source also said the two camps had initially quarrelled over the composition of the electoral college, which should be made up of members drawn from the districts.
Last year police in Masvingo had to deploy the anti-riot squad to every Zanu PF meeting held in the town to keep warring factions from coming to blows after violence broke out in the controversial and now defunct District Coordinating Committee (DCCs) elections. Police had to use teargas to disperse the supporters as rival camps clashed after the disaster that characterised the DCCs polls.