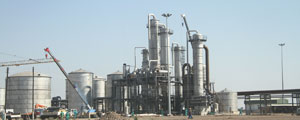 ZIMBABWE'S largest ethanol blending project has been nominated as one of the top five mega infrastructure projects in Africa, the company has said.
Business Reporter
Green Fuel said in a statement yesterday its team has successfully commissioned the Chisumbanje Ethanol Plant in a record two years, and the project has been identified as the second largest infrastructure project in Africa by an independent team of engineering projects management experts co-ordinated by the Project Management Zimbabwe (PMZ), formerly known as Project Management Institute of Zimbabwe (PMIZ).
"The award, titled the 'Most outstanding development project successfully completed in two years, the Chisumbanje Ethanol Plant', recognises the timeous delivery of the ethanol plant, as the second largest infrastructure project on the African continent which has impacted very positively on the fabric of the country's economy," the firm said. "The citation of the award notes that the project is listed as one of the top five projects on Africa's list of mega infrastructure projects with an investment net worth of $600 million."
Green Fuel said the PMZ awards would ensure that engineering project management standards improve on timeous delivery and craftsmanship.
In an interview with NewsDay, PMZ chief executive officer Peter Banda said the award was in recognition of excellence in project management and delivering a product that added value to ordinary Zimbabweans.
"What we are awarding is the construction of the plant and the standard. We are awarding the plant type and we are looking at construction of the plant from start to finish and if it was done within the budget and the scheduled time which it were completed within two to three years," Banda said.
He said the top-five list was obtained from the Africa Investor, which in September published a list of top 100 mega-projects of Africa and five of them were in Zimbabwe. Banda said among the top-five projects were Zimbabwe National Road Administration rehabilitation of Plumtree-Bulawayo-Harare–Mutare Road, Chisumbanje Ethanol Plant, the rehabilitation of South Power Station, Zesa and the Chinese Power Project in Lupane and the rehabilitation of the Chirundu–Harare-Beitbridge Road.
PMZ is Zimbabwe's largest association of project managers with over 1 000 subscriber's individual and corporate members.
Meanwhile, Green Fuel also received accolades at the recently held Green Business awards, scooping the Green Product of the year award for ethanol, which is used to create blends such as E10, E20 and E85 flexifuel, a much higher component of renewable locally produced ethanol at 85 % and only 15 % imported unleaded petrol.