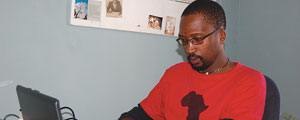 A colleague in the media recently forwarded an electronic copy of our government's five-year economic blueprint plan, Zimbabwe Agenda for Sustainable Socio-Economic Transformation (Zim Asset), Toward an Empowered Society and a Growing Economy. It has not yet been launched with as much fanfare as is usually the custom of Zanu PF. The President has, however, publicly commended it and his foreword to it has been published in local print media.
Guest Column Takura Zhangazha
Reading through Zim Asset, there is a sense of déjà vu as opposed to one of revolutionary urgency. Even in the aftermath of a recent resounding, but still legally contested two-thirds majority electoral victory in Parliament. This déjà vu is evidenced by reference to Zanu PF's above mentioned victory and an acknowledgement of singular responsibility for the entirety of government as was the case before February 2009. It also has the propagandist hue of past governments' five-year economic blueprints of the 1980s and 1990s.
The fact that it is written with uncharacteristic simplicity (until one gets to the Results Matrices) is perhaps intended for all Zimbabweans to understand and comment on it. Add to this its reference to "people-centred government", might be intended to charm us into assuming that the country is headed in a different and better national economic departure point. The structural realities of the economic plan are, however, more complex.
Zim Asset's major unstated premise is essentially that of "State capitalism". Contemporary economists would immediately point to China, for an example, for such a system or alternatively hint at the National Development Plan of South Africa as a sign of the model beginning to take root in Africa. It is a model that presupposes the ability of the State to operate as a business corporation through centralised economic policy management or through direct control of the assets of private business entities. Our current government's economic plan seems to be keen on this sort of framework. Hence its emphasis on the role of parastatals, sovereign wealth funds, infrastructure development, public-private partnerships, foreign direct investment as well as centralised management of the economy.
Therefore, if one were a free market economy advocate the reality is that for the next five years, if you want to do good business, you are better off endearing yourself to the State more than the market. Alternatively, if one were socialist, social democratic or even communist, the reality is that the State would function more to extract than to give to its citizens. Either way, whatever one's ideological persuasion, Zim Asset has the ingredients of an economically predatory State (or to borrow from a popular metaphor, a State that eats its own children).
The above cited metaphor does not mean there will be a biblical "gnashing of teeth". On the contrary, the State intends to appear benevolent. At least initially. That is why Zim Asset proposes a two-phased approach to its implementation. The first phase 2013-2015 has been referred to as the "Quick Wins" phase in which the four economic clusters that have been identified will seek to yield "rapid results". An already announced "quick win" strategy has been the acquisition of a loan from China ostensibly for water infrastructure refurbishment accompanied by a simultaneous Harare City Council announcement of its intention to privatise water and hence pass on the cost of the loan to the citizen via prepaid water meters.
The short and long-term intention are, therefore, to manage assumed perceptions of economic improvement with a simultaneous State disinvestment from social welfare via the much vaunted private-public partnerships. In our circumstances, where the unemployment and poverty levels are so high, this is a recipe for further economic disenfranchisement of the majority poor.
This, being done by rationalising these models as either the best or taking advantage of the "ground zero" placement of the Zimbabwean economy where any short-term quantitative improvement is seen as "better than nothing". Especially by a privileged political elite.
If the cornerstone of Zanu PF's electoral victory was indigenisation and economic empowerment, Zim Asset politely seeks to avoid the former's controversies. Instead it leverages economic empowerment to the Social Services and Poverty Eradication where some resources will be acquired through the participation of Community Share Ownership Trusts in social service delivery/investment.
The economic empowerment theme, however, does not run through its economic blueprint. Zim Asset appears more in keeping with a document primed to seek further foreign direct investment than it is intended to indigenise it. This can be taken to mean that the indigenisation and economic empowerment programme embarked on since 2008 (at least at law), might be more political than it is structured to deal with all sectors of the economy. Zim Asset could, therefore, be referred to as either a missed revolutionary moment, if in any event, there was any revolutionary intent to indigenisation or just a change of ownership.
In conclusion, any government with a new five-year mandate always tries to give the impression it has a plan. These plans will either be derived from both its election manifesto or its ideological leanings. Zim Asset is more an intention by government to be seen to be neither too extreme nor too soft on its ideological pretext, namely, nationalism. The economic reality of the plan, however, points to an intention at predatory State capitalism and an economy that is not people-centred. Takura Zhangazha writes here in his personal capacity. www.takura-zhangazha.blogspot.com