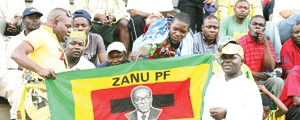 ZANU PF yesterday said it had roped in State machinery – including provincial affairs ministers, police and Central Intelligence Organisation operatives — to run its provincial elections slated for tomorrow.
JOHN NYASHANU,POLITICAL EDITOR
Party secretary for administration Didymus Mutasa told NewsDay that provincial affairs ministers, members of the police force and other security agents had been assigned various roles in the Zanu PF elections to be held in seven provinces.
"These elections are taking place in their (provincial ministers') provinces and it is only fair that they take part and I do not see any reason why they should not," Mutasa said.
"If a police officer is a member of a district or province, why shouldn't they be involved? Some of them are members of our party and it is only sensible that they play active roles."
However, a source in the Zanu PF politburo told NewsDay that police officers would take a much more active role.
"They will inspect ballot papers and will also be responsible for taking them to the main command centres," said the source.
Provincial affairs ministers and members of State security are said to have attended a meeting held at the Zanu PF headquarters in Harare on Wednesday which was called by the party's national chairperson Simon Khaya Moyo, to address bottlenecks likely to emerge at the polls.
"Indeed, they (provincial affairs ministers and members of the security agencies) will play important roles at the elections. Provincial ministers even attended the meeting on Wednesday and their role is to assist the party's coordinating teams which will be on the ground," said a member of the politburo, Zanu PF's highest decision-making body outside congress.
The inclusion of State machinery follows the chaos which characterised Zanu PF provincial elections held in three provinces — Midlands, Manicaland and Mashonaland — where results were disputed by losing candidates who alleged rigging. Party leader President Robert Mugabe and the politburo, however, endorsed the results.