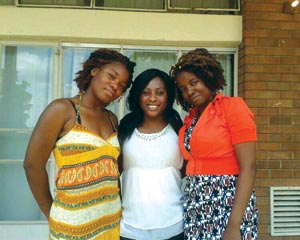 A PLAY that questions issues of identity, history and life in the modern world, Waiting for Godot, is set to be staged at the ongoing Women's Arts Festival at Alliance Francaise on Saturday morning.
Entertainment Reporter
Written by the late Irish playwright Samuel Beckett in 1948, the play is directed by University of Zimbabwe lecturer Innocent Mwapangira with a cast of his students Amanda Ranganawa, Mirriam Makundidze and Rutendo Phiri. It was the advent of what is now termed the Theatre of the Absurd — considered to be the more self-searching theatre.
It consists of two acts of uneven lengths in which Vladimir and Estragon spend time conversing and alternating between hope and despair while waiting for Godot to keep an appointment with them.
Mwapangira said their version of the play questions traditional Christian beliefs.
"This version treats Waiting for Godot as a spiritual play, a space of liminality where the human is, but suspended between the self and the image of self," he said.
"It is under the banner of Holy Theatre, thus the theatre of the invisible made visible, questioning Christian tradition and beliefs so as to dialogue a gender-sensitive and equal Zimbabwean society." In its original context, the play features an all-male cast, but in this case features an all-female cast playing the male roles.
"This is a deliberate move on addressing the gender issues and imbalances that exist in society," Mwapangira said.
"What is the role of women in this world? What happens when women step in the shoes, positions and/or roles traditionally occupied and played by men? This is a self-searching play designed to question the role and status of women in religion, hence a presentation of women playing male roles."
Waiting for Godot is presented by Prink Entertainment, a relatively new production company under the stewardship of Mwapangira.