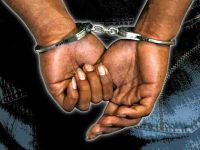 A two-member taxi crew from Goromonzi has been slapped with an effective three-and-a-half year jail term for robbing a client at knifepoint and dumping her by the roadside in Harare eight months ago.
PHILLIP CHIDAVAENZI,SENIOR REPORTER
The two — Tawanda Vambe and Bernard Nzvere — were initially sentenced to five years when they appeared before Harare regional magistrate Hosea Mujaya early this week, but had part of their sentence suspended on condition of good behaviour.
The court heard that on April 30 this year, Vambe, Nzvere and their accomplice identified only as Walter, who is still at large, hatched a plan to rob people using the taxi — a Toyota Raum. Just before midnight on the same day, they offered complainant Elizabeth Mudondiro (32), transport to Greencroft. They picked her up at the corner of Samora Machel Avenue and Leopold Takawira Street.
Along the way Mudondiro requested for recess after suspecting the taxi crew of an ulterior motive and was afforded the opportunity to relieve herself behind the vehicle. She noted down the vehicle's registration number.
Along the way, the robbers stopped the vehicle at a street in Avondale and robbed her of various goods including mobile phones, clothes, flash drives, rings and blankets valued at over $500 and $1000 cash at knife point. After the robbery, Mudondiro was then dumped by the roadside as the taxi crew sped off. She later made a police report.
On May 7, police detectives spotted the car along Seke Road and arrested the pair leading to the recovery of an okapi knife used in the commission of the offence. Police then raided Vambe's home in Goromonzi and recovered some of the stolen items. On May 12, police mounted an identification parade where Mudondiro positively identified Nzvere.