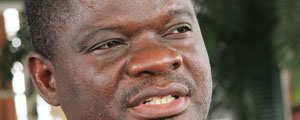 MDC-T chief election agent and deputy national chairman Morgen Komichi was yesterday sworn-in as the party's Midlands Senator during a ceremony presided over by Senate President Edna Madzongwe.
EVERSON MUSHAVA
Komichi was not sworn in at the same time with other senators because he was on trial for contravening the Electoral Act after he was arrested when he presented an envelope containing ballot papers that he claimed had been picked up from a rubbish bin to the Zimbabwe Electoral Commission (ZEC).
He spent 97 days in remand prison following his arrest on July 28.
Komichi was convicted of the charge early this month and was ordered to perform 350 hours of community service at Mabelreign Clinic in Harare.
Speaking after his swearing-in, Komichi said his arrest and 97-day remand prison stint were aimed at destroying his political career and keeping him out of the Senate.
"Right from the start, it was a programmed plan against me to make sure that I am disabled to come back to Parliament. But God has prevailed. I have been sworn in today (yesterday)," Komichi said.
"In the first place, all the people including myself had lost hope that I would be out of prison. But at the end of the trial, God granted a tough, but manageable sentence."
Meanwhile, MDC-T Masvingo Senator Misheck Marava urged government to ensure that facilities for testing and treating cancer patients were readily available in all districts at low cost.
This, Marava said, would ensure that even the poor, who also have the right to live, have access to the facilities.
Zanu PF Chitungwiza Senator Tsitsi Jadagu urged Senators to be more focused and debate pertinent issues as their performance would be measured against their ability to raise issues that affected people and service delivery.