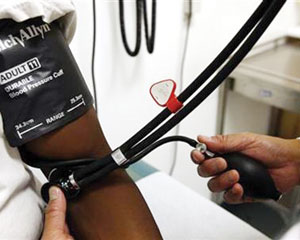 WORLD Health Organisation (WHO) representative in Zimbabwe Dr David Okello last Friday said the prevalence rate for high blood pressure had reached 27% and urged stakeholders in the health sector to adopt a multi-sectoral approach to tackle the problem.
STAFF REPORTER
Okello said this in a speech read on his behalf by another WHO official Dr Lincoln Charimari during the belated commemorations of World Health Day at Parirenyatwa Hospital in Harare.
World Health Day is celebrated on April 7 every year.
"Hypertension or high blood pressure already affects one billion people worldwide," said Okello.
"It is a major concern in the African region where, in the year 2000, an estimated 80 million adults were affected. Without preventive action, an estimated 150 million people will suffer from hypertension in the region by 2025. Zimbabwe is not spared, with an estimated hypertension prevalence rate of 27 %."
He said there was a need to tackle the challenge through a multi-sectoral approach.
"This is more so considering that many determinants of high blood pressure such as the production and marketing of tobacco and alcohol as well as exposure to unhealthy diets lie outside the direct control of the Ministry of Health and Childcare," said Okello. "Hypertension is a silent killer that can affect anyone."
Most of the people affected by hypertension are often not aware they have the disease. The effects of hypertension, over time, may include heart attack, kidney failure, stroke, premature death and disability.
Unhealthy lifestyles — unbalanced diet, lack of exercise, smoking, harmful use of alcohol- coupled with stress, all increase the chances of development of high blood pressure.