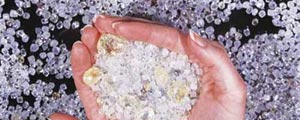 ZIMBABWE can easily raise about $5 billion and jumpstart the economy if it converts its large stockpiles of diamonds from Marange which have been accumulating since 2006 before the country got the Kimberley Process Certification (KPCS) to formally market its gems, a World Bank report has revealed.
Dumisani Sibanda, Assignments Editor
Marange diamonds were discovered in 2006, but the international clearance to sell the gems on the world market came in 2011.
KPCS is a system meant to ensure that "conflict diamonds" do not enter the rough diamonds market.
"It must be noted that before being certified by the Kimberly Process, the government of Zimbabwe through ZMDC (Zimbabwe Mining Development Corporation) built up a large stockpile of diamonds, with various reports valuing the stock at well over $1 billion and some as high as $5 billion," states the World Bank report for 2012 titled Zimbabwe Growth Recovery. "These will be sold off in the coming years, significantly enhancing fiscal revenues on a fiscal basis."
The report said alluvial diamond production at the four ZMDC-controlled mines at Marange in 2011 was nine million carats and the figure was expected to rise to 11 million carats last year.
"Production is expected to peak at 12 million carats over the next five years although it is estimated that an investment of $150 million could increase production to 15,2 million carats per year by 2018," states the report.
"Employment in the Marange area is about 1 000 persons and expected to remain at that level.
"It must be stressed that given the controversy surrounding the Marange area and the manner in which the government took control of the area, information is highly secretive and there is the possibility that the amounts are much higher than reported here.
"Nevertheless, figures released by the Ministry of Finance on the export values of diamonds in the first eight months of 2012 corroborate the projections used in this analysis."
The World Bank report says the production of diamonds at the traditional kimberlite underground mine at Murowa was 367 000 carats in 2011 and this was expected to rise to 565 000 carats last year.
"With no major investment, production is expected to remain at the level of 565 000 carats by 2018. In more favourable policy conditions, an investment of $100 million could result in production of one million carats per year. Employment would then increase from 433 to 800 persons. Investment in the sector is expected to reduce operating costs from about $100 per carat to $60 per carat."
The European Union recently lifted a ban on the trade of the Marange diamonds opening the way for the gems to be sold in Belgium, the centre for international diamond trade. However, the United States has warned that if proceeds of the sale of those diamonds go through its financial system they will be frozen.