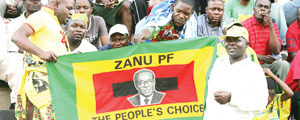 CONVICTED Zanu PF activist Justin Zvandasara has vowed to take on Harare provincial chairman Amos Midzi in this weekend's elections, in a contest in which six candidates are understood to be vying for the same post.
JOHN NYASHANU,POLITICAL EDITOR
In an interview with NewsDay over the weekend, Zvandasara said his conviction over a $4 million fraud charge involving the selling of 84 000 hectares of land belonging to fellow Zanu PF official Nyasha Chikwinya, would not stop him from contesting the polls.
Zvandasara was convicted of fraud despite his own plea of not guilty when he appeared before Harare magistrate Temba Kuwanda last Thursday. He is set to be sentenced today.
"Yes I have been convicted, but our party's constitution says one can only become ineligible if sentenced to 12 months in prison without the option of a fine or a Presidential pardon," Zvandasara said.
"I am positive that at the end of all this, I would be left in a position to contest and represent the people of Harare who are banking on me for visionary leadership."
According to Zanu PF insiders, other contestants for the top provincial post include incumbent chair Midzi, Mt Pleasant MP Jason Pasaad, former Chitungwiza mayor Forbes Magadu, war veteran Douglas Mahiya and another party cadre only identified as Maketo.
Zanu PF national spokesperson Rugare Gumbo yesterday refused to comment on Zvandasara's eligibility saying: "I would rather not talk about that issue."
The Zanu PF politburo, which held a special meeting on Saturday resolved to endorse election results in three provinces, Manicaland, Mashonaland Central and Midlands. Election results in the three provinces had been challenged by losing candidates who were demanding a re-election saying the first round was marred by irregularities.
Elections for the remaining seven provinces are set to be held simultaneously.