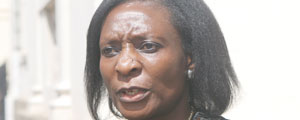 A 2011 government audit report tabled in Parliament recently has revealed that most commissions were grossly underfunded to the extent that they failed to execute their mandate.
VENERANDA LANGA, SENIOR PARLIAMENTARY REPORTER
According to the Constitution, all independent commissions are funded by Treasury.
Part of the report by the Comptroller and Auditor-General reads: "The Zimbabwe Anti-Corruption Commission (Zaac) was unable to carry out its activities because it was not sufficiently funded and in 2009 the commission had a budget of $13 million, but was only allocated $136 400 and subsequently $111 610 was received which constituted 0, 6% of the budgeted amount."
The government auditor added: "The commission was also allocated a capital budget of $5 000 that was never released."
The report also said the Zimbabwe Electoral Commission (Zec) which is headed by Justice Rita Makarau was operating without a functional internal audit department due to underfunding.
Zec claimed that the absence of internal auditors had been caused by paltry salaries offered by government.
The report also disclosed that most district hospitals operated without medical doctors.
"I observed that Mudzi, Mutoko, Uzumba, Maramba and Pfungwe operated without doctors for the greater part of the period under review and this affected HIV and Aids programmes especially anti-retroviral therapy. People in need of doctors had to be transferred to other hospitals."
Meanwhile, Zacc chairperson Denford Chirindo yesterday reiterated that his commission though independent, depended entirely on government to fund its operations.
In a statement, Chirindo said: "It is, therefore, important for the public to note that the Constitution of Zimbabwe should not establish independent commissions and leave them to be foreign or externally-funded.
"Any external or foreign funding of an independent commission like Zacc is subject to government policy unless otherwise provided for by an Act of Parliament." He added that contrary to media misconceptions, Zacc's investigations division was headed by Sukai Tongogara, while Sandra Nhau was in charge of legal services.