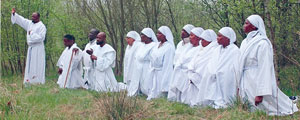 A MAJOR breakthrough in the health sector in Zimbabwe has been made following a commitment by a body of various apostolic sects in the country to allow their members to seek modern medicine and have their children immunised.
Dumisani Sibanda
The leader of the Union for the Development of Apostolic Churches in Zimbabwe — which was formed in 1993 — Reverend Edson Tsvakayi made the pledge at a belated commemoration of World Health Day at Parirenyatwa Group of Hospitals last week.
"We are here because we embrace modern medicine," Tsvakayi said.
"As a body of various apostolic sects, we are saying to members of our churches you can go to church, but you can still seek treatment at clinics and hospitals.
"We are also saying let us do away with practices like marrying off little girls. Our members are now being asked to allow their children to be immunised against a number of diseases. We have also gone a step further to say let's stop the practice of worshipping under trees."
Some members of the apostolic sects especially in Manicaland have succumbed to various diseases after refusing to go to clinics or hospitals for treatment while children have died from preventable diseases after their parents refused to have them vaccinated.
The stance by the group of churches will go a long way in assisting government and various partners including the World Health Organisation and the United States Development Programme — which is sponsoring a Maternal and Child Health Integrated Programme in Manicaland — to fight newborn and child mortality. It is estimated that 84 children out of a 1 000 live births are dying and in most cases this is due to diseases that could be prevented.
"We are even discouraging practices like polygamy not just from the point of Aids, but also from a simple question of how one can be able to support the several wives and look after their many children properly, taking them to school and doing all that is expected from a parent," Tsvakayi added. "As a matter of fact, we will be launching our strategic plan early next month which addresses those issues."
Harare City Council director of health services Dr Stanley Mungofa commended the group of churches for making a commitment to embrace modern medicine, stressing that going to health institutions for health care did not mean that one was abandoning their spirituality.
"You can pray and still go to hospital," Mungofa said.